Open Play by J.N. Welsh: What was supposed to be a cheeky girls trip before she had to attend a work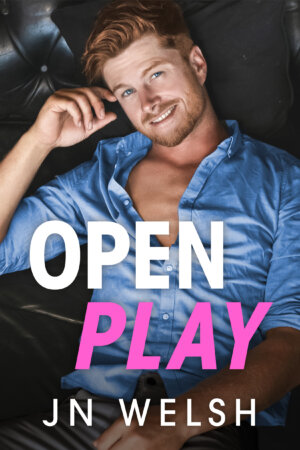 conference soon turns into talented physiotherapist Ayanna heading to Ireland solo. As luck would seem fate is on Ayanna's side sending not one but two hotties her way. The last thing Ayanna expected was for Eoghan to be a football player for the Irish National team or for her contact for the game to be Shane, Eoghan's friend. Thinking this would be the last time she sees the boys Ayanna is a bit shocked to no only run into Shane at the conference but to get hired by Eoghan to help rehab a bad injury. Soon Ayanna finds herself back between these two Irish hotties, the question is which guy is really her perfect match?
Open Play sounded like the perfect steamy international read, and Gish damn was it! I loved that this book had three very different key players, but I have to say there was a clear hero for me right from our first meeting with him. This book was a bit slow to start but once things began rolling it was hard to put down.
I absolutely loved that Ayanna was such a strong female character and that as a woman of colour she was at the top of her field. There was one small hang up there for me and it was her lack in knowledge on actual sports. This minor thing aside I really liked that she was so driven and passionate about her work and getting things done.
As much as I liked Eoghan, it was clear that Shane was just the better guy. I absolutely loved that these two guys were so different from each other, where Eoghan was more of a showboat, Shane was softer and more caring. I just found that Shane was more relatable especially his choice in career change. I loved the way his personality played off Ayanna's, these two were definitely made for each other.
Open Play was most definitely a slow burn romance with loads of will they or won't they angsty moments. I will say the ending left me wanting a bit more, nevertheless this was just a minor thing. I would definitely recommend this book to all sports romance fans.
Book Info:

Publication: February 15, 2022 | Montlake |
A hot young physical therapist plays a risky game with an Irish soccer player—and his best friend—in this transatlantic romance from award-winning author JN Welsh.
Ayanna Crawford isn't afraid to get physical; in fact, it's her job. A world-renowned physical therapist who works too hard, Ayanna embarks on a trip to Ireland before an upcoming conference. Finally, a chance to play as hard as she works…and maybe find an Irish boo to keep her company.
After a long day of sightseeing, Ayanna hits it off with tall drink of ale Eoghan O'Farrell. Then there's the freckled, blue-eyed Shane MacCallum, a soccer team liaison who Ayanna feels a strong urge to "liaise" with. But not only do the two men work for the same team—they're best mates.
When an injury forces the three lovebirds to work in close proximity, Ayanna finds herself in the clutch. With careers and hearts on the line, Ayanna must work through her fears and desires to make a choice—or find herself alone on the pitch.