Promise Me You by Marina Adair: Hunter is frustrated with life. He's the sexy front man for his band and he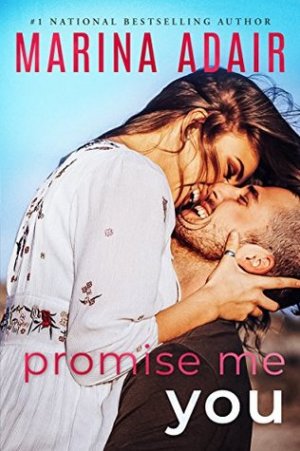 takes on all the PR aspects for the band. He usually writes the songs for the band, but he can't find his muse with a looming deadline fast approaching. Between his divorce, his best friend vanishing from his life, and pressure from his label, he really needs this album to be a success.
Mackenzie is fiercely independent. She doesn't have much by way of family anymore, so she's used to relying only on herself. She's incredibly musically gifted and left school to care for her mom. She's since created a successful career as a highly sought-after songwriter in country music.
A lot has changed in the three years since Hunter and Mackenzie have seen each other. They were best friends and songwriting partners, but Mackenzie wanted and needed more. Hunter can be a force of nature, and that includes getting their friendship and songwriting partnership back on track whether or not she's ready.
Mackenzie frowned. "I'm not in the talking mood."
"Again, I can wait."
Mackenzie threw her hands up in frustration. "God, you're such a pain in the ass."
"You'll find that I grow on you."
Mackenzie was always so feisty and never let Hunter get away with anything. He's desperately missed her in his life and he's genuinely shocked by how much she's changed. They make magic when they write songs together and Hunter might finally be ready to act on their chemistry, despite her rules. Hunter is very protective of her, but he also challenges her to try new things.
"I know you're used to women who swoon when you wink, but you're going to have to try harder than that," she lied.
"To clarify, you're saying no to the date but yes to the kiss," he mused.
"Yes. I mean no."
Promise Me You is surprising, sweet, and endearing with a simmering heat. Marina Adair built up the anticipation in a slow burn, friends to lovers romance, while continuing to develop the characters and story. Ms. Adair created an entertaining cast of characters, to include the protective companion Muttley. Fans of Jennifer Probst and Kate Meader will enjoy Promise Me You.

Book Info:

Publication: October 23rd 2018 | Montlake Romance | The Eastons #2
A heartening romance of friendship, second chances, and the healing power of love…
Mackenzie Hart has made a career out of writing about eternal love, so when she finds her perfect match in Hunter Kane, she decides to put it all on the line. Irresistibly charming and drenched in alpha-male swagger, Hunter isn't just the catch of the town—he's Mackenzie's best friend. Only someone beats her to the altar. After a fresh start and three years to recover, the last thing Mackenzie expects is for her old life to come knocking…
Recently divorced, musician Hunter Kane wants to reconnect with the woman he left behind. Admitting his biggest mistake comes first. What comes next is up to Mackenzie. He hopes she'll give him a second chance. He may have been the one to break her heart, but he knows he can also be the one to mend it.
As a tenuous friendship turns into something more, Hunter's life on the road beckons once again. Will love be enough to keep them together, or will their wildly different worlds be too much for them to overcome?