Puppy Christmas (Forever Home #2) by Lucy Gilmore: Get ready to laugh your way through this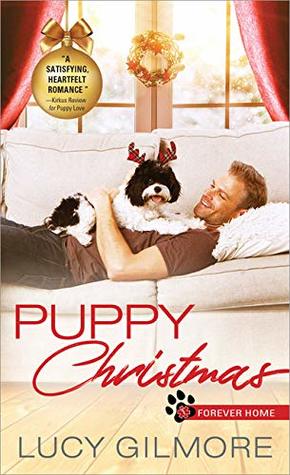 super fun story! There's the sweetest little girl and her adorable service puppy, her funny and sexy single dad and the puppy trainer who falls for all three of them.
Lila Vasquez, who co-owns Puppy Promise with her two sisters, feels like a real loser. It's all her two sisters' fault. They thought the nonprofit event with the Once Upon a Time theme meant it was a costume party. They couldn't have been more wrong. No, it's an upscale elegant event complete with a string quartet for entertainment. Lila is so embarrassed. Here she is in her "costume," a full-skirted bubble gum pink gown complete with glitter. Lots and lots of glitter. She can't leave this event either. She and her sisters have donated a service puppy and their personal training and the lucky winner will be announced here tonight. Then, as luck would have it, her ex-boyfriend (Yes the one who broke up with her because she was too "perfect" said in a voice of distain.) enters the ballroom. Oh no! Escape! She finds an Energency Exit stairway and heads down to a first floor landing. She just has to regroup and try to avoid the guy until she has to return to the ballroom for the big announcement.
Alone and safe! Not quite. She hears a sniffling sound and discovers a little girl in a bubble gum pink dress similar to her own. Seems six-year-old Emily is lost. She calms down when she decides that Lila is a true princess. As Princess Lila is about to take Emily to find her dad he finds them. Our hero has arrived! So even though our hero has the ridiculous name Ford Ford that doesn't take away from his sexy good looks, humorous wit and loving heart. Plus when Lila meets him she finds he smells so good. Like aftershave and peanut butter(?). So begins the fun and laughter.
Puppy Christmas by Lucy Gilmore is the second book in her Forever Home series. This series is centered around three sisters who run Puppy Promise, a service puppy training school. All three sisters are fun, loveable characters. This story highlights the oldest sister, Lila, the staid, responsible "too perfect" one. At the nonprofit event Lila discovered that Emily Ford was the recipient of the donated service puppy and training. Emily is hearing-impaired and has two cochlear implants. Both Emily and her single dad Ford are such personable characters that I fell in love with them and I fell in love with the Lila (Princess Lila) who fell in love with Ford and Emily. The dialogue in this story is the best part. The lines Ford comes up with are "laugh out loud" fun. I loved this story and readers of Romantic Comedy will love it too. And yes, even those readers who prefer more traditional contemporary romance books will love this book too!
Book Info:
Publication: September 24th 2019 | Sourcebooks Casablanca | Forever Home #2
Lila Vasquez might not be the "fun one" at Puppy Promise―the service puppy training school she runs with her sisters―but she can always be counted on to gets things done. So when her latest client shows an interest in princess gowns over power suits, Lila puts aside her scruples, straps on the glittery heels, and gets to work.
If only the adorable six-year-old's father wasn't such an appealing Prince Charming.
Ford's whole life revolves around his daughter…until he meets Lila. Smart, capable, and amazing at helping Emily gain confidence with her new service puppy at her side, Lila is everything he ever wanted―but she's way out of his league. Good thing Emily and her new pup are up to the matchmaking task. This Christmas, it's all hands (and paws) on deck!