Reunion at the Shore by Lee Tobin McClain is the second book in her Off Season series. This story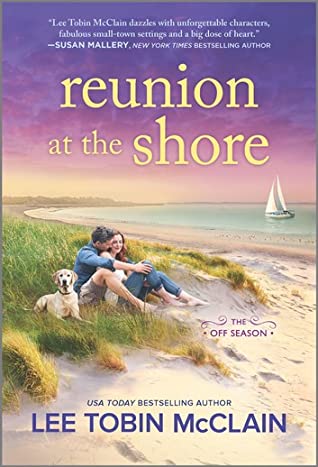 was a very emotional read for me.
Ria Martin didn't know her ex-husband had lost his sight. She just knew he wasn't being very responsive these days. But then that had been one of the biggest problems in their marriage – lack of communication. Now their fourteen-year-old daughter, Kaitlyn needs both her parents to step in and help sort out her problems. Kaitlyn is not being very communicative either. That's why Ria decided to go to Baltimore to confront her ex-husband, former police officer Drew Martin. That's when Ria found out about Drew's loss of sight. They need to work together though for both their daughters' sakes.
Drew Martin is having a tough time dealing with his loss of sight due to a TBI (Traumatic Brain Injury) incurred while on duty. In very good light he can see some things but the images are very blurry. He has withdrawn into himself and avoids visitors. When his ex-wife Ria tracks him down to tell him about their daughter Kaitlyn experiencing difficulties at school and seeks his help Drew realizes he needs to leave his self-pity behind and step-up to help Kaitlyn. Since Ria and his daughters are now in Pleasant Shores where Ria owns and operates a motel Drew needs to find a place to stay for a while. Someplace other than Ria's motel. He ends up entering a program in Pleasant Shores which allows wounded police officers to stay at The Cottage in exchange for some volunteer work. It works out well for Drew and his former K-9 partner Navy. Maybe he will have a chance to get back together with Ria as he still loves her and they could all be a family again.
Ms. McClain deals with some tough, emotional subjects throughout the storyline. The obvious one is divorced parents dealing with their children and their children's problems together. There is so much more in this story. The author addresses bullying/cyber bullying, body image hangups, miscarriage and teen suicide, all in a satisfying way and not at all depressing as these subjects can sometimes be. I liked how well done these topics were addressed. It sure seems to me that these issues were well researched.
The characters came to life on the pages of this book and drew me in ready to share their problems and successes. I liked getting to see characters from the first book in the series. It's always fun to keep up with all the characters in the series. I am looking forward to the next book in this series, Christmas on the Coast.
Book Info:

Publication: June 23rd 2020 | HQN Books | The Off Season #2
Return to the Chesapeake Bay, where broken hearts find ways to heal.
Ria and Drew Martin's chemistry had always kept their marriage together—until suddenly it didn't. Now a single mom, hotel manager Ria is at a loss when one of her teen daughters starts spiraling. Panicked, she calls on her estranged ex-husband for backup, but she's not prepared for the man he's become—or the unresolved emotions that still linger between them.
After his divorce, Drew pulled away from everyone when he lost his eyesight and his job on the police force. Now that he's realized how much his daughters need their dad, Drew is determined to make things up to them. He's less sure where he stands with Ria. They had real reasons for ending their marriage, but they've both changed during their time apart. And being with her again in the place where they first fell in love brings back memories of all that they once had. Can they overcome their past to reunite their family, this time forever?