Riding Hard by Lauren Landish is the second book in Bennett Boys Ranch series. We first met eldest brother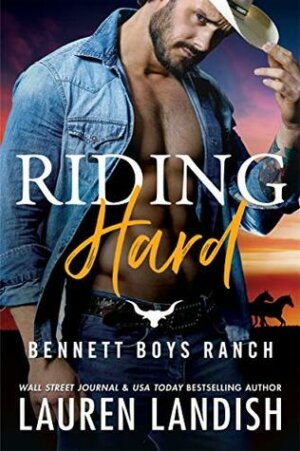 Mark Bennett in book #1 of the series. To say Mark is quiet, steady and a little gruff would be a mild description of his personality. It seems his usual way to respond to a conversation is a "grunt" as an answer. But Katelyn Johnson, the new events planner at the Mountain Spirit Hotel & Resort sees a different side of Mark when she meets him and then gets to know him.
Yes she finds him tall, handsome and oh so very sexy like the other ladies in the area, but she also sees a caring, passionate side to him as well. She just has to work on him a little bit (or maybe a lot) to get the real Mark Bennett to come out to play and to love.
I liked the first book in this series, Buck Wild. I really enjoyed this second book even more. I feel the author succeeded quite well in getting very deep into her main characters' personalities which brought them to life very vividly.
The storyline was very believable and led to quite a satisfying conclusion. She developed the conflict expertly and led to a sucessful resolution. It was fun getting to see characters from the first story again and to feel like the planning for the wedding and other activities in the story included me. I really enjoyed reading about Mama Lou again and her interactions with her sons.
So far the Bennett Brothers have found strong, passionate women to love. It intrigued me when Mark called Katelyn "Princess" from the very beginning of their relationship. This was an unexpected pet name from such a quiet, staid man. I look forward to seeing who is going to capture the heart of Luke, the third Bennett brother.

Book Info:

Publication: March 26th 2019 | Montlake Romance | Bennett Boys Ranch #2
A city girl reins in the cowboy of her hottest dreams in Wall Street Journal and USA Today bestselling author Lauren Landish's wild romance.
As the eldest brother, the responsibility for the family ranch now rests on Mark Bennett's broad shoulders. He wouldn't have it any other way—he loves being in charge. Working hard on the land helps him stay focused and keeps him from noticing what's missing in his life—what he'll never allow himself to have for fear that one small taste will break his careful control.
But a sweet blue-eyed blonde has just arrived in town, and the attraction between them is undeniably hot. So Mark tightens the reins around his heart—how can he tell her what he really wants?
Events planner Katelyn Johnson's new gig is the wedding of a rodeo superstar. Right now, it's tough not to focus on the rider's tempting older brother. So far, getting beneath Mark's gorgeously gruff exterior has been a pleasure.
What she needs to do is go a little deeper. But the closer they get, the more Mark pulls away. Katelyn's not afraid of a challenge, though. Whatever deep desires he's hiding, she wants in on his secrets.
All she has to do is get past his legendary reserve. With all her body, heart, and soul, there's nothing she can't handle.