In The Trouble with Cowboys by Victoria James, after his father has a stroke, Tyler Donnelly returns to his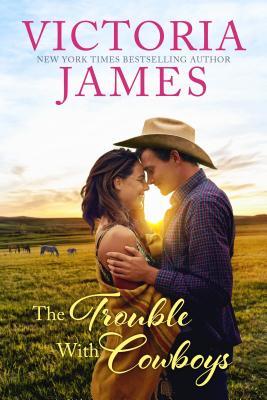 hometown; a place he swore he'd never return to after the terrible fight he had with his father. However, he's determined to make things right because his father is the only family he has left and he feels such guilt over their fight. Yet, making things right isn't going to be easy, especially when he and his father are as stubborn as each other. Luckily, Tyler finds an ally in Lainey Sullivan; a wonderful woman that would do anything to make life better for Tyler's dad because she owes the old man a lot. Will Tyler be able to win Lainey over or will he end up breaking her heart?
"I didn't know you had a crush on me when you were a teenager."
She held up her hand. "Oh, easy there, cowboy. I didn't say 'crush.' I said I thought you were somewhat attractive, and that in no way translates to a crush. I find lots of things attractive…Horses, cows…"
Ms. James always brings a wonderful depth of emotion to her stories and this book was no different. Really, it's an emotionally-charged, fast-paced, very engaging read that kept my attention from start to finish due to the main characters back stories and the journey they take to happy ever after. Will Tyler be able to repair his relationship with his father? Will the hero and heroine be able to overcome any obstacle to be together, especially her biggest one of all – the secret she's keeping from the hero? The way this story started had me sympathizing with the hero because coming back to his hometown after so many years isn't easy and having the townspeople treat him the way they do made it even more difficult. Why are his once best friends so against him being back in town?
As for the dialogue, it was intense and full of emotion due to the main characters back stories, everything this couple go through on their journey to happy ever after and the rocky relationship between the hero and his father that had me hoping these two would be able to repair their relationship. Will Tyler be able to help his dad recover after what happened to the old man? Will Tyler and his father ever be able to forgive each other, considering words have power and it's not easy to get over the sort of ugly conversation they had before Tyler left?
"I'm sorry," he said roughly.
She shook her head. "It's my fault."
"It's not. I actually don't think we can be in the same room together without combusting."
"I think I may need to reevaluate my position on having sex."
"Well, make sure I'm first to get the memo." He almost laughed as he handed her the shirt that he'd tossed to the ground. She held it against herself.
With the main characters, I absolutely loved the hero and I really felt for him. He knows coming back to his hometown and facing the past isn't going to be easy, especially after everything that went down with his father. Yet, I liked that he didn't give up and leave town, considering the animosity he faces from his ex-best friends and the strained relationship he continues to feel he'll never be capable of repairing with his father. Luckily though, he has someone on his side in Lainey who does her best to support Tyler through the tough times and encourages him not to give up because she knows his father loves him. While the heroine, she's kind, caring, loyal, resilient, courageous and I liked how determined she was to help the hero, even though she knows spending time with him isn't a good idea because of the secret she's trying to keep hidden. Will the hero discover her secret? Will the heroine be able to help the hero repair his relationship with his father?
Overall, Ms. James has delivered another fantastic read in this book where the chemistry between this couple was tangible and strong; the romance was delightful; and the ending had me crying happy tears because of the hero's determination to win the heroine back after their relationship goes awry. Certainly, he'll be the talk of the town because of the way he goes about winning the heroine back. However, it was the epilogue that left me smiling long after I finished this story and again filled my eyes with happy tears because of the hero's final words. Really, Lainey is so good for him. I would recommend The Trouble with Cowboys by Victoria James, if you enjoy small town romances, stories that pack quite the emotional punch, or books by authors Sonya Weiss, Jennifer Hoopes, Elsie Davis and Carrie Nichols.

Book Info:

Publication: March 26th, 2019 | Entangled Publishing |
Eight years ago, Tyler Donnelly left Wishing River, Montana, after a terrible fight with his father and swore he'd never return. But when his father has a stroke, guilt and duty drive him home, and nothing is as he remembers––from the run-down ranch to Lainey Sullivan, who is all grown up now. And darn if he can't seem to stay away.
Lainey's late grandma left her two things: the family diner and a deep-seated mistrust of cowboys. So when Tyler quietly rides back into town looking better than hot apple pie, she knows she's in trouble. But she owes his dad everything, and she's determined to show Ty what it means to be part of a small town…and part of a family.
Lainey's courage pushes Ty to want to make Wishing River into a home again—together. But one of them is harboring a secret that could change everything.