In Shattered With You (Stark Security #1)  by J. Kenner, After years of working for both the MI6 and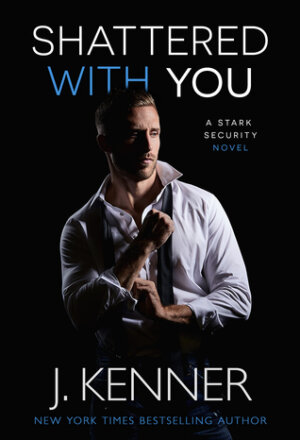 Deliverance agencies, Quincy Radcliffe nearly quit the espionage/security business for good when his demons almost got the better of him. But he couldn't pass up the chance to work for Damien Stark in his newly formed Stark Security Agency. Little did Quincy know that one of their first cases would bring him face to face with his former girlfriend Eliza Tucker. The way in which they parted about four years ago has been one of Quincy's deepest regrets. And now he has the chance to redeem himself by helping Eliza find her older sister who is currently missing. He'd love to also become a part of her life again. Although he doesn't know if she'll ever be able to forgive him.
'Couldn't she see that he was cursed?… It never stopped. He'd never be free of the monster, and she deserved a hell of a lot better than what he could give her.'
A chance encounter in London turned into one of the best times in Eliza's life, full of passion and wonderful conversations. Right up until the moment Quincy abruptly walked out of her life. A few years later, with her sister Emma missing and the clues just not adding up, Eliza is determined to find her. Surprisingly, her efforts put her directly into Quincy's path once again. And what she learns as they work together to solve Emma's disappearance is unbelievable. Not only did Quincy not tell the truth about himself to Eliza four years ago–although, granted, as an MI6 agent he couldn't give his true identity–but the reason he left her behind is the stuff of nightmares. And even though she swore she wouldn't put her trust in Quincy again, Eliza can't help but fall for the Brit the more time they spend together.
'…Right now, the only thing that's keeping me anchored is the touch and attention of this man who once destroyed me.'
What an explosive and delicious beginning to a new spinoff in the Stark Universe we had in Shattered With You. A reunion romance between an actress and a real life James Bond, the action was pulse-pounding and the emotions stronger than ever.
"I can't promise to save you from whatever darkness is inside you–only you can do that. But there are shadows in your eyes, and I want to be the one to bring back some light."
If you've read any of J. Kenner's other books in her Stark Universe, you know she isn't afraid to bring some darkness into the storyline. In this case, both Quincy and Eliza had overcome horrific childhood trauma to then face even more heartbreak and life-altering situations as adults. (The events they went through might be tough for sensitive readers, so beware…) And one of those occurrences is what drove them apart about four years prior to the start of this book, which we learned about through flashback scenes that were exceedingly well done.
I think readers will latch on to Eliza and Quincy right away. They were both such *good* people that you can't help but want them to succeed–and to finally get their HEA together. I've loved the time we've spent with Quincy in the previous books in the Stark Universe and knew he'd make a great hero, with his loyalty, his British charm and the fact that he was formerly an MI6 agent. How could he not be an interesting guy, right?
And Eliza held her own with Quincy. She was one tough woman who still had a huge capacity for love and compassion. But I will admit I was proud of her when Eliza and Quincy met up a few years after he broke her heart and she didn't let him off the hook or cave right away. Even though they still had insane chemistry. Like with all of Kenner's stories, there was a reason for everything that happened between them–it will break your heart!–but it was a challenge that Quincy and Eliza eventually overcame, with their HFN one that felt perfect for them after all they'd been through.
Shattered With You will rip your heart out, keep you on the edge of your seat, and win you over with the intensity of the bond between our hero and heroine. This new Stark Security series has started off with a bang and based on the teaser at the end here, promises even more intrigue and steamy romance ahead.
Book Info:

Publication: Published March 26th 2019 | by Martini & Olive | Stark Security #1
With his lethal skills and criminal connections, former British agent Quincy Radcliffe has fast become a key asset at the newly formed Stark Security. But Quincy isn't the man he appears to be.
When the woman whose body he once worshipped and whose heart he broke pleads for his help, Quincy knows he must either turn his back on her or risk revealing his dark secrets to the one woman who can—and will—tear open his old wounds.
For years, struggling actress Eliza Tucker has tried to forget the decadent weeks she shared with Quincy Radcliffe. His smoldering good looks had drawn her in, while his British charm had enchanted her. But it was the wildness of his seduction and the ferocity of his passion that captured her. She'd given herself to him—and he'd shattered her like glass when he'd walked away.
Now, he's the only person who can help find her missing sister. She'll use him because she has too. She'll pay any sensual price he demands. But she won't fall for him again.