The Sicilian's Secret Son by Angela Bissell is a sexy second chance romance for a couple whose one night of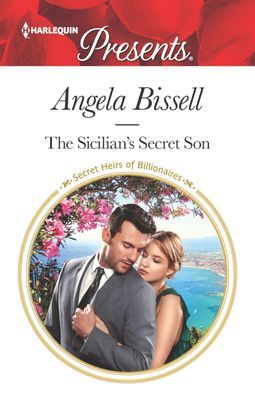 passion left them with an unexpected treasure.
Luca Cavallari is adjusting to taking over his father's business and cleaning house from the inside out. In his deceased father's papers he finds an unexpected discovery – photographs of a young woman who looks familiar and a boy the spitting image of himself at that young age. With a shock, he realizes that the boy is his son, and the woman, someone with whom he had a passionate encounter on a dreary winter night in London.
The moment Luca enters Annah Sinclair's flower shop she knows the time of reckoning has come. Having never expected to see him again, his presence is something she's dreaded ever since she'd tried to tell him about the pregnancy and instead had been confronted by Luca's father and a demand for an abortion. She'd stayed clear of the Cavallari family ever since, believing Luca had no interest in their son.
With Luca's appearance the truth comes out, along with Luca's sincere desire to be a real father. Whisking them off to Sicily to experience the life that Ethan will inherit as Luca's son, Annah and Luca get a chance to reconnect and experience again the attraction that drew them together. Will they find a way to a happy ending for their newly discovered family?
I loved this family themed romance! Annah never tried to keep her pregnancy from Luca, but after her encounter with Luca's father she was more interested in protecting her son than pursuing any kind of relationship. With Luca's reappearance in her life and the realization that he never knew of Ethan's existence, her feelings about the matter change, though she is still wary of the Cavallari family and their mafia ties. However Luca's behaviour towards Ethan and his sincere desire to be a hands on parent go a long way to persuading Annah that his intentions are genuine. And she can't deny her desire for him, leading to some sexy love scenes as she and Luca reconnect.
I really liked Luca's character. He's trying to repair the reputation of his family and business after his father's shady dealings. And from the moment he meets his son he tries to connect with him. He has no interest in taking Ethan away from his mother, but wants to find a way that he can be a major part of the boy's life. He doesn't come across as arrogant or entitled but rather determined and understanding. He has a strained relationship with his mother that the presence of Annah and Ethan helps to repair. Their happy ending is satisfying and comes with a sweet epilogue. It's an enjoyable and entertaining romance!
Book Info:

Publication: Mar 19, 2019 | Harlequin Presents | Secret Heirs of Billionaires
When his heir is revealed…he'll protect what's his – with a ring!
Luca Cavallari is a man who always gets what he wants. So when he uncovers the existence of his hidden son, he's determined to whisk his new family away to his sprawling Sicilian estate. Convincing gentle Annah Sinclair won't be easy…but denying their still-fierce attraction is even harder! And Luca knows there's only one way to truly claim Annah and his son – marriage!