In Showdown at Lizard Rock by Sandra Chastain, King Vandergiff has been called to Lizard Rock because a woman in a sheer robe is there to protest the construction of his new private club. Now he has to stop her protest and get his employees working again before she can start any bad press.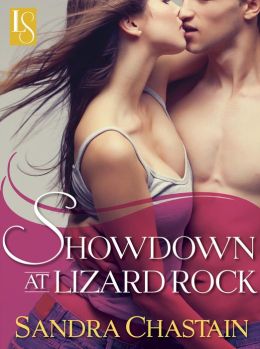 Kaylyn believes that Lizard Rock and the springs are a very special place, where back in the 1800s the Cherokees used to bring their sick to cure them since the spring was believed to have some medicinal uses thanks to the spirits there. Now Lizard Rock is at risk of being destroyed and the springs capped, something she will not allow to happen no matter what. She makes uses of the springs and believes that it has helped the patients at the nursing home to regain some use of their extremities.
Now King will have a fight on his hands because Kaylyn will not give up easily on her protest to save Lizard Rock and the springs, but he has the investors and his family waiting on him to get the private club ready for use soon. His attraction and the vulnerability and strength he sees in Kaylyn's eyes are something that may just make him change the way he looks at everything.
Kaylyn and King may seem to have a lot of chemistry and attraction pulling them together. But it will take a lot of determination, a little sacrifice and some inner wisdom for them to realize what is truly important and what is not. Showdown at Lizard Rock by Sandra Chastain is entertaining and interesting, but don't expect it to be your run of the mill romance story.
While the story is very interesting and has a lot of potential, I was not very happy with the way that the heroine Kaylyn acted. She relies on the affection the people in town have for her in order to try and make things go her way. She thinks that she is the savior for those in need and that she has to do this in order for others to love her. Sometimes even using her body in a very manipulative way which seemed a little degrading to me. King was very manly and sometimes even a complete gentleman, but as a man of business I don't see how he could let himself be used and even in a way abused by the people who should abide by the law but didn't just to keep Kaylyn happy.
I know that a lot of readers have issues with reprint Classic Love Swept titles and adjusting to the 80s/90s way of writing and references. I personally don't mind that, and have very gladly and happily overlooked it on other LoveSwept books. I base my reviews on the story itself, and unfortunately, this is the first story that has disappointed me a little from this line.
Book Info
Publisher: Loveswept (June 10, 2013)
Opposites attract in this sizzling novel from Sandra Chastain, as a face-off between a gorgeous activist and a sexy mogul proves that desire can be the sweetest persuader.
Catching a man's eye has never been hard for statuesque Kaylyn Smith. And now that she's got King Vandergriff's attention, she's determined to put it to good use. Kaylyn is camping out on Lizard Rock, the healing hot springs where King plans to build a country club, and she's staying there until she changes his mind. But Kaylyn has never encountered anyone quite like King, a man who never backs down from a challenge . . . especially one as enticing as this spirited siren.
Nobody has ever gotten in King's way, or under his skin, like this beautiful protester with a heart of gold. Kaylyn is passionate, persuasive, and dedicated to her ideals. Which suddenly puts King in the tricky position of trying to win her heart without selling out his own dream—a tug-of-war between desire and determination that only love can settle.