Stalked in Silver Valley by Geri Krotow is the ninth book in her Silver Valley P.D. series.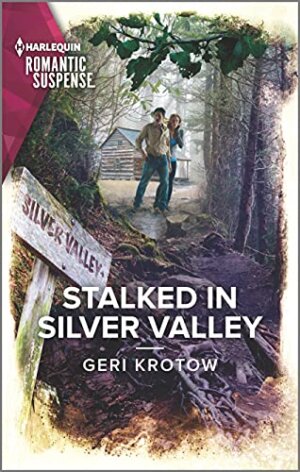 Kit Danilenko was rescued from the domestic abuse of a forced marriage to Russian gangster Vadim Valensky, a member of Russian Organized Crime in America. Kit was brave enough to find a way to help the Silver Valley Police Department take down Vadim Valensky who was sentenced to twenty-five years to life for his sex trafficking and drug trafficking crimes. She is now divorced and working with SVPD to solve criminal cases due to her languages abilities. Kit also works for Trail Hikers, a government shadow agency that assists law enforcement worldwide. She is now assigned to do communication surveillance with Trail Hikers agent Luther Darby to find and watch two ROC criminals returned to the area to breathe life back into East Coast ROC. This is just surveillance, not supposed to be very dangerous. But danger finds them.
Luther Darby has traveled the world going after the bad guys, first as a FBI agent and presently as a Trail Hikers agent. He very much wants to take down the East Coast ROC. It's personal as well as something that needs to be done for the good of all. Luther wasn't expecting to be attracted to the woman assigned to conduct communications surveillance with him. But he was. Luther doesn't need the distraction. But there's no fighting his attraction to Kit.
I was hooked from the first chapter of this book. The characters come alive on the pages and the action is quite realistic. The danger jumped off the pages as I read along. This is a super series. I enjoy Ms. Krotow's writing style very much. I totally enjoyed this book!
Book Info:

Publication: September 28th 2021 | Harlequin Romantic Suspense | Silver Valley P.D. Book 9
Hunting a ruthless enemy, revisiting her darkest fears
Forced marriage to a Russian gangster left Kit Danilenko with PTSD. Now she devotes all her time to taking down organized crime. When Kit is paired with undercover agent Luther Darby on a covert mission, she's wary of the attraction simmering between them. Their work requires trust, though, and Kit and Luther forge a connection—fragile and tentative, but unlike anything she's ever known. Can it withstand the haunting threats of mobsters on their trail?
From Harlequin Romantic Suspense: Danger. Passion. Drama.
Feel the excitement in these uplifting romances, part of the Silver Valley P.D. series:
Book 1: Her Christmas Protector
Book 2: Wedding Takedown
Book 3: Her Secret Christmas Agent
Book 4: Secret Agent Under Fire
Book 5: The Fugitive"s Secret Child
Book 6: Reunion Under Fire
Book 7: Snowbound with the Secret Agent
Book 8: Incognito Ex
Book 9: Stalked in Silver Valley