In The Casanova (The Miles High Club #3) by T.L. Swan, Kathryn "Kate" Landon has worked in the Miles Media IT department for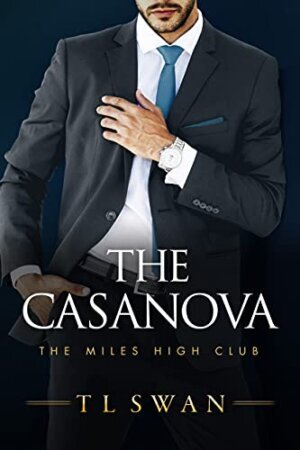 about seven years now. And in that time, she's seen the CEO, Elliot "Casanova" Miles, go through a plethora of women. How so many women want him is beyond Kate. The only thing she generally feels around him is animosity. So when she figures out that the funny guy she's been chatting with on a dating app might actually be Elliot, she's stunned. Can such an angry, mean-spirited businessman be charming and kind when they're messaging each other?
'He makes me forget who I am… And when I'm with him, I'm not sad Kathryn anymore. For the first time in years…I feel like my old self.'
Kate wonders if there's more to Elliot than meets the eye when he begins treating her differently at work–and is very, *very* interested in having a fling. As she peels back the grumpy layers of his at-work personality, she's pleasantly surprised by the wonderful guy underneath. And Elliot, as much as he loves to torment Kate, bringing out her sarcastic wit, finds himself wanting more than a few stolen nights with her. A first for him, truth be told. But when fate intervenes and Elliot is given a chance at something he's wanted for years, will he end their relationship? Or will fate lead him right back to Kate's doorstep?
'Calm.
That's what she is…she brings me a sense of calm that I don't ever remember feeling before.
I don't have to try to be something I'm not, I can just be myself.'
A steamy, tension-fueled love story that comes with a side of laughs, tears, and sighs of frustration, The Casanova by T.L. Swan just might make readers believe in fate.
'Every day a little more of the Elliot Miles puzzle falls into place. And every day, he becomes a little more endearing.'
I'm not going to lie: I have mixed thoughts about The Casanova. It had all the quick bantering and insane chemistry I've come to equate with a T.L. Swan romance. And the love scenes? Sexy as all get out. *fans face* The secondary cast was a riot as well. It was the games Elliot and Kate played, a decision he made towards the ending, and their ever-changing opinions on each other that gave me whiplash and had me setting the book aside here and there.
For the most part, I was completely captivated with Kate and Elliot. Swan did a great job keeping things interesting with all the twists and turns–and a surprise at the end that drew our couple closer together. It was a lot of fun to see such strong-willed people pitted against each other at first and then slowly opening up, learning who they were on the inside when away from the office. Which turned out to be *quite* different than you'd think.
Kate was constantly (and comically) calling Elliot out on his attitude. And he, in turn, did the same. They had some wonderful, intimate moments that truly made me melt. And when Elliot moved into his newly purchased home, the many laughs he and Kate had together–okay, more on Kate's side–was definitely giggle worthy. (Let's just say some zany farm animals had something to do with it! lol)
T.L. Swan's writing *always* makes me have strong feelings about her characters and the choices they make. But, ultimately, even if I don't agree with them 100%, like in The Casanova, it's always highly entertaining and definitely time well spent.

QOTD: The Casanova was an office romance at its core. Have you read this trope before? If so, any favorites you can share?
Book Info:

Publication: Published August 26th, 2021 | by Montlake | The Miles High Club #3
In T L Swan's steamy third installment of the Miles High Club, Kate's hot new pen pal is a welcome distraction from her horrible boss. But nobody is as distracting as Elliot Miles…and he knows it.
My favorite hobby is infuriating Elliot Miles. Just the sight of my boss's handsome face triggers my sarcasm. God knows how he earns his Casanova reputation—if a million women want him with his personality, what the heck am I doing wrong?
Disgusted with my love life, I join a dating app under a fake name. I start chatting to a man named Edgar. He's not my type and lives on the other side of the world, but we hit off a friendship, laugh and confide in each other.
But lately things are getting weird at work. Elliot's being…attentive. His eyes linger a little longer than they should, and there's a heat behind them that I haven't felt before. And then, in the shock of all shocks, he tells me that my vulnerability is appealing. But when was I vulnerable?
Horror dawns…Has my boss been reading my emails to Edgar?
Damn it, why did I use my work email?
Oh no, does he know what I really think of him? I'd rather die than ever admit it.
Or, even worse: is it possible that the man I loathe in real life is the man I'm falling for online?