Stolen Desire by Robin Lovett: Complete with a zero gravity sex scene, Stolen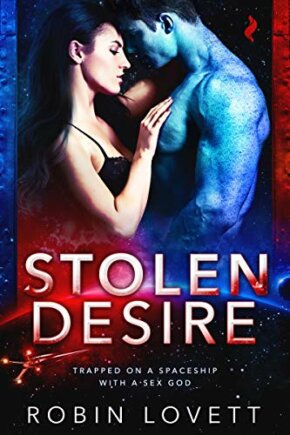 Desire by Robin Lovett is a rollicking sexy space adventure for two characters bound by duty but ruled by their bodies, and their hearts.
Half-human and half-Ulreya, rebel Ten Systems' soldier Jenie is bound by her alien side to the mating instincts that have screamed into existence upon crashing on Fyrian but her attraction to Koviye of the Fellamana could spell disaster. He belongs to a polyamorous species, plus he's got a special healing power given through orgasms and touch that his people rely on. He can never commit to one being so having sex with him could lead Jenie to a lifetime of pain and loss if the mating bond is one sided.. But that doesn't mean she can't enjoy some sexual satisfaction in her dreams, and in other non-penetrative ways.
But they've also got to track a missing friend of Jenie's and figure out a way to keep the rest of the Ten Systems fleet from bearing down on Fyrian to find their missing ship. Forced to work together to prevent disaster for both their peoples, will their overwhelming desire for each other spell disaster or lead to new discoveries?
I've been enjoying this series from the start and once again the author delivers a wholly erotically charged, exciting and intriguing story. Since actually having intercourse is a problem, Jenie and Koviye find some interesting ways to get their satisfaction from each other and in doing so, develop an emotional bond that isn't so easily dismissed when the time comes to part ways. There's a lot of action too, and a good amount of interesting worldbuilding in the series as a whole. While this one is easily read as a standalone story, it does build on plot points in the previous books. The technological advances of the Fellamana aid Jenie in her quest to keep the Ten Systems fleet from finding the rebels and make Jenie and Koviye face some challenging truths. Getting to their happy ending doesn't come easy, but it does involve a lot of coming, LOL. This is a great escape read.
Book Info:

Publication: July 15, 2019 | Entangled Publishing | Planet of Desire #3
Koviye
My people call me the Sex God, but I, Koviye of the Fellamana, am so much more. I read their every desire and satisfy them with a mere touch of my hands. I'm sworn to share my powers, and this thing humans call monogamy is biologically impossible for me, or so I thought until I met the human, Jenie, Lieutenant General in the rebellion against our mutual enemy determined to destroy us. Now, as though Jenie has some power over me, I cannot think of touching anyone but her.
Jenie
I've dreamt of Koviye every night since I landed on this sex planet where every breath I take is an aphrodisiac to my blood. I am not fully human, I am part alien, and the planet has awakened my body's instinct to find a mate. The next person I have sex with I will form an attachment for life, which is impossible for the Sex God. I have a rebellion to lead. Mating a polyamorous alien would ruin me. I can never have him, no matter how much I burn for him.
But I need his help. My best friend was taken prisoner by our enemies, the Ten Systems, and the only person with a ship fast enough to save her is Koviye. And all those dreams I've been having about him aren't just dreams, he tells me. They're real. He can dream walk, so if I can't have him while I'm awake, at least I can have him in my dreams—as if that will ever be enough.