In The Aussie Next Door (Patterson's Bluff #1) by Stefanie London , all Angie Donovan wants is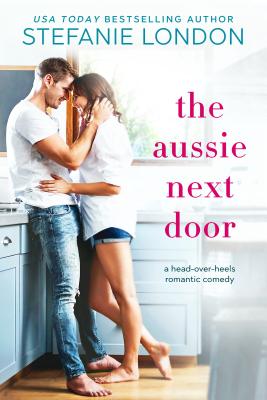 to be able to stay in the country she's come to love. However, with time running out on her visa, the only way she'll be able to stay is by falling in love with an Aussie and hopefully getting married. Unfortunately, she only has two months to find the right man. Except the only man she wants is perhaps the one man she might not be able to have. Will she be able to convince Jace Walters that they're perfect for each other or will she lose her chance at staying in Australia?
"Why did you feel the need to trick me into it? That was low."
"Yes, it was a bit of a crafty move." She knotted her hands, which Jace had learned was something she did whenever she felt conflicted. "I'm sorry for the subterfuge. But you know how important it is to change things up from time to time. Besides, I thought it might show you that you'd be a great father someday."=
Oh no. They were not going to have a discussion about his sex life on top of everything else. Hard pass.
"Speaking of which, how is that cute American tenant of yours?"
I always love when Ms. London releases a new series and with this one being set in a fictitious small town in Australia, I was really looking forward to reading it and I've got to say that it was everything I'd hoped for and more. Really, the way this story started had me liking the hero and his family immediately, as his mother is determined to make life interesting for him instead of him always having a set routine. Will his mother get her way? However, it was from the moment the hero and heroine come face-to-face for the first time where this story really takes off, as these two couldn't be more different.
As for the dialogue, it was captivating and a wonderful mix of emotional moments and fun and teasing banter, as the heroine's life hasn't been easy and the hero finds his life turned upside down. Not only by two dogs but by his next door neighbor; a neighbor that is charismatic and outgoing and someone he believes is not for him. Will he realize that they're perfect for each other before it's too late? Will the heroine's determination to find a man to fall in love with and marry be the key?
"Sometimes I do things…" He sighed. "I would like to have a drink with you and listen to whatever you have to say."
"Do you even know how to make drinks?" she asked, a soft smile on her lips.
"Step one, open gin. Step two, pour gin."
"Let me guess. Step three, drink gin?" She laughed. The sound carried on the night air and filled his heart. "I hope you've got something to go with that gin because I am not a straight liquor kind of woman."
With the main characters, the hero is one of the best I've read in a while. He's a hero on the spectrum and comfortable with his life the way it is. So, why does everyone keep trying to change his way of life? Then again, everyone needs their life shaken up once in a while, especially when it leads to finding the love of a lifetime. Furthermore, the hero is resilient, courageous, loved by his family and I enjoyed the way he was pushed out of his comfort zone. While the heroine, it's no wonder she wants to stay in the small town she's come to love so much after everything she's been through. Really, she has it good in Patterson's Bluff, as the townspeople are warm, friendly and non-judging. Something she needs after experiencing the harshness of people when it came to her past. I also liked Angie's bubbly and nosy nature and how she brings the best out of the people. Well, the hero. For sure. Indeed, she's nothing like his ex which is a good thing. Who needed such toxicity in their life? Certainly, not the hero just because he likes things a certain way. Luckily, Angie is a little more understanding, even if she does tend to be a bit nosy.
Overall, Ms. London has delivered a well-written, charming and utterly engaging read that combines humor; heat; heart; realistic and relatable characters; and a gratifying and emotional storyline brilliantly and which has left me wanting to get my hands on the next book in the series as soon as it's released. Really, Jace's family are fun. As for the ending, it had me smiling long after I finished this book because these two are so deserving of their happy ever after, especially when there's a bit of uncertainty with Angie and whether she'll get to stay or not. Will she win her battle to stay in Australia? I would recommend The Aussie Next Door by Stefanie London, if you enjoy small town romances; stories filled with great characters and fun-filled moments; or books by authors Miranda Liasson, Megan Ryder, Avery Flynn and Catherine Bybee.

Book Info:

Publication: August 27th, 2019 | Entangled Publishing | Patterson's Bluff #1
American Angie Donovan has never wanted much. When you grow up getting bounced from foster home to foster home, you learn not to become attached to anything, anyone, or any place. But it only took her two days to fall in love with Australia. With her visa clock ticking, surely she can fall in love with an Australian—and get hitched—in two months. Especially if he's as hot and funny as her next-door neighbor…
Jace Walters has never wanted much—except a bathroom he didn't have to share. The last cookie all to himself. And solitude. But when you grow up in a family of seven, you can kiss those things goodbye. He's finally living alone and working on his syndicated comic strip in privacy. Sure, his American neighbor is distractingly sexy and annoyingly nosy, but she'll be gone in a few months…
Except now she's determined to find her perfect match by checking out every eligible male in the town, and her choices are even more distracting. So why does it suddenly feel like he—and his obnoxious tight-knit family, and even these two wayward dogs—could be exactly what she needs?