The Dark Bones (Dark Lure #2) by Loreth Anne White  is a gripping pulse-pounding crime thriller that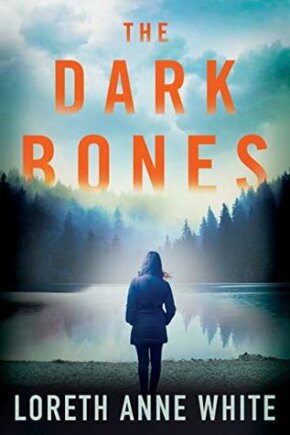 won't let go of the reader's attention.
Retired RCMP Corporal Noah North was drunk most days. He spent a lot of time drinking in the Moose and Horn Bar and rambling on about looking into cold cases from his past. He should have known better than to awake sleeping dogs – so-to-speak.
His daughter, RCMP Detective Rebecca North has been called home after her father has "committed suicide." She is determined to investigate his "suicide" and the fire that destroyed her father's cabin herself. Her investigation means working with her high school sweetheart, Ash Haugen who cheated on her back then which led to Rebecca leaving home 20 years ago. She has many questions for Ash and some reservations about him. After all he has become a suspect in the cold case her father had been looking into, the disappearance of Whitney Gagnon and Trevor Beauchamp.
Rebecca caught Ash having a hookup with Whitney which ended her relationship with him. Ash still, to this day, won't tell her the truth about himself and Whitney. Does Ash have the answers to what really happened twenty years ago?
The plot runs with lots of surprises and action. Blending the mystery of the past and current events makes for interest-grabbing reading. I really liked the interaction between Rebecca and Ash. It seemed real, genuine. They worked hard to attain their happy ending. Readers who enjoy thrilling action and suspense will want to read this story.
Book Info:

Publication: May 21st 2019 | Montlake Romance | Dark Lure #2
She's come back to solve the mystery of her father's death and confront her own dark past.
When Detective Rebecca North left her rural hometown, she vowed never to return. Her father's apparent suicide has changed that. The official report is that retired cop Noah North shot himself, knocked over a lantern, and set his isolated cabin ablaze. But Rebecca cannot believe he killed himself.
To prove it, she needs the help of Ash Haugen, the man she left behind. But Rebecca and Ash share more than broken hearts. Something darker lies between them, and the investigation is stirring it back to life. Clues lead them to the home of Olivia West and her deeply troubled twelve-year-old daughter, Tori. The child knows more about the murder than anyone can imagine, but she's too terrified to say a word.
And as a cold-blooded killer resurfaces from the past, Rebecca and Ash begin to fear that their own secrets may be even harder to survive.