The Date from Hell by Gwenda Bond: Making a deal with the devil, what could possibly go wrong? Well for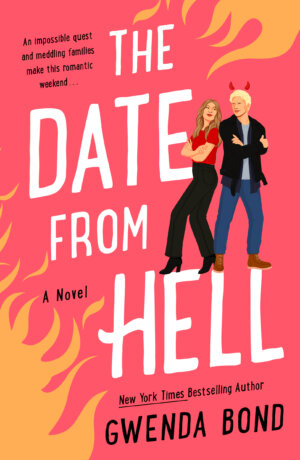 Callie and Luke it would seem that everything that could possibly go wrong does! What was supposed to be a cute date between Callie and Luke soon turns into a quest to give all damned souls a second chance, too bad Lucifer set them up with the hardest test possible, reform a crafty conman with a back story unlike any other. Soon Luke and Callie find themselves spending what was supposed to be a quiet weekend in chasing the latest Hell-escapee and Hemsworth brother lookalike half way across the worlds on a Grail quest! With not only the redeemable hopeful souls on the line but also the fate of their own relationship, failure is not a possibility.
We jump right back into Callie and Luke's story from where we left off in Not Your Average Hot Guy, this time round they find themselves on the ultimate quest to out smart Lucifer himself with a deal that could just change the fate of everyone. After reading the first book in this series I was super eager to get back into this cutely outlandish world with all these oddly loveable characters and let me just say Bond has done an outstanding job in creating this addictively cute story.
I have to say I really liked that this time round Callie had more depth to her character and that she wasn't just a constant roll of facts and information. I really enjoyed getting to see her take on Lucifer and try to make a difference in Hell. I loved getting to see her belief in fairness and good shine through this book and that ultimately she kind of one upped the Devil at his own game.
Now for our charming prince of the underworld, Luke was definitely the star of this book. This time round we got to see him grapple with his place in life, his relationship with his father or rather lack thereof and the possible future of his relationship with Callie. I loved his character because as much as he has these bad boy vibes and is supposed to be the heir to the underworld he is actual a good person. I liked that this time round we got to see him be more vocal with Lucifer and really come into his own. I will say that the ending was kind of bitter sweet for me in that I really do think he would have made a brilliant new boss of Hell, nevertheless it all worked out in the end.
The secondary characters in this book were just as brilliant as in the first, I really liked that this time Luke and Callie teamed up with Sean – the con artist that Lucifer set as their test – rather than having to work against him. Oh Sean, well I definitely did not see his story arch coming but boy did it work out brilliantly, this is one I can't say to much on, you just need to read it to see. Trust me you are going to love this twist! I really liked that we got to see Saraya The Rude again and this time we actually got to know the grouchy guardian. I loved that the guardians played a bitter role this time and it was only to cause a big fight. Now for my favourite side kick Porsoth, I just loved this guy! He was the perfect sidekick to help Luke and Callie, I loved that he was kind of like their fairy godfather. I also liked that we got to see a more maternal side to Lilith in both her relationship with Luke and the new one formed with Callie.
One of the best parts of this series is that it is so rich in legends and myths, I think this part of what makes it such an addictive read. I absolutely loved reading The Date From Hell, this highly entertaining drama comedy will have you hooked right to the very end. I would highly recommend reading both books in this series! Hopefully this won't be the last we see off Luke, Callie and the gang!

Book Info:

Publication: April 5, 2022 | St. Martin's Griffin | Not Your Average Hot Guy #2
After saving the world and stopping the apocalypse, Callie and Luke are looking forward to a quiet, romantic weekend together. When you're human and dating the Prince of Hell, quiet moments are hard to come by. But their romantic weekend in Hell takes a turn when Lucifer tasks Callie and Luke with chasing a wayward soul around the world. If they can prove it's possible to redeem a soul, Lucifer will allow the two of them to make some changes in Hell.
But this wayward soul, Sean, doesn't have any interest in being redeemed. Instead, now that he's back on Earth, he's decided to take a leaf out of Callie and Luke's book and wants to find the Holy Grail. Now Callie, Luke, and their friends—and enemies—must race Sean around the globe on a Grail quest and bring peace between Heaven and Hell before they can finally (maybe) get around to that date.