The Devil and the Deep by Amy Andrews is one sexy entertaining read, in this book we get a double dose of sexy with not one but two sexy heroes; a pirate and a treasure hunter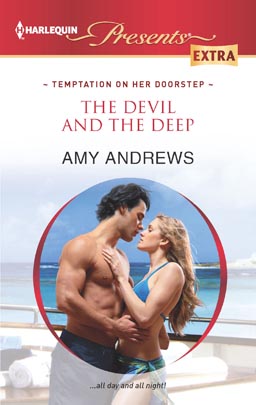 and both are equally captivating 😉
Stella and Rick grew up sailing the high seas together searching for treasure with Stella's father. When Stella's father passes away he leaves Stella and Rick one half of a treasure map each as his legacy.
She glanced at Rick. 'You got the same?'
He nodded and she looked back at the documents, leafing through the rest. A hand-drawn map was at the very back.
Or half a map to be precise.
'What's this?' she asked, not quite comprehending her father's frenetic squiggles around the margins.
'The other half of this,' Rick said, pulling out a folded page from his back pocket, unfolding it and laying it on the coffee table.
Diana sat forward. 'Is that a…treasure map?'
Rick grinned. 'Sort of. It shows the potential resting places of Captain Inigo Alvarez's ship, La Sirena.'
Diana scrunched up her face, trying to remember her schoolgirl Spanish. 'The…?'
'The Mermaid,' Stella supplied.
Rick talks Stella into taking a trip on his luxury yacht in search of the treasury, Stella is conflicted as she has always secretly adored Rick, so much so that when she decided to write her debut novel she based her fictional pirate hero Vasco Ramirez on Rick but considering she hasn't written a word since her debut bestseller and her second book is due to her editor she decides to accompany Rick aboard his yacht.
Six hours later, Rick read The End and knew he would never be the same again. Diana had been right. It was most illuminating. The hard-on he'd got in chapter two was still there and there was no way it was going away unless he did something about it.
Fortunately now he had plenty of images to help him in that department. Two things were crystal clear.
Number one—Dale was an idiot of the first order. Hell, if he had a woman that had this sort of stuff in her head—the sheer eroticism of the beautifully scripted love scenes still clung to his loins—he wouldn't let her out of his bed let alone his life.
Number two—the most shocking of all. She'd written the book about him.
He was Vasco Ramirez.
When Rick realizes he was the inspiration for Stella's hero Vasco Ramirez all bets are off and he decides to have some fun by turning fiction into reality….This is where the story gets truly entertaining 😉
I liked the lightness of this read, it was fun and flirty yet the sexual tension between Stella and Rick burned up the pages. When I pick an Amy Andrews book I know I am going to be one satisfied reader at the end of it and this book delivered on all counts. Humor. Passion. Romance.
If you are a fan of friends to lover's storyline you are going to love reading this one. A definite keeper and HJ Top pick!
 Rating: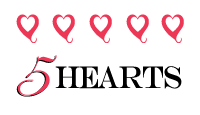 Publisher: Harlequin Presents;  (January 1, 2013)
Author Stella Mills has writers' block. Her swashbuckling debut romance was a mega-hit—and the world is crying out for a sequel. Problem is, her sexy-as-sin hero was based on childhood friend Rick Granville, whose dangerously delicious eyes have never sparkled at her that way!
So being forced to spend weeks on adventurer Rick's luxury yacht could be just the thing to trigger her imagination—forget Johnny Depp…modern-day pirate Rick is pure physical perfection. Of course, spending night and day with the temptation that is Rick could be sailing too close to the wind—especially when her fictional fantasies start becoming red-hot reality!