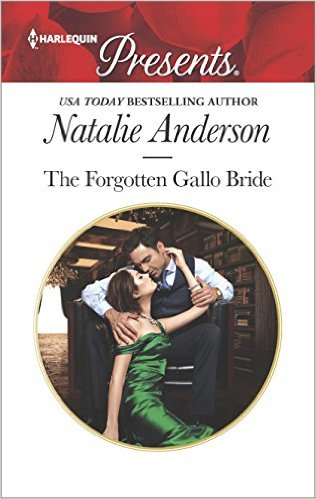 In The Forgotten Gallo Bride by Natalie Anderson , after surviving a terrible car accident that robbed him of his memory, Tomas Gallo has become a total recluse. Preferring to work from his home, he never expected to find himself face-to-face with Zara Falconer, the gorgeous woman he once rescued from her tyrant of an uncle. Too bad he doesn't remember that she's his wife. Can she find a way to help him get his memory back, or will their second chance at love be lost forever?
"I'm not here to provide you with intimate entertainment."
His gaze clashed with her own fierce one. Something changed within his expression. Then he too straightened. "What did Jasper say to you?" he asked harshly, even angrier now.
"That you were going to be alone this weekend."
"And he thinks that's a problem?" he asked bitterly. "Does he think I can't handle being alone?"
"You'd have to ask him that," she answered crossly. "I'm just doing what he asked."
What a wonderful, intriguing, fast-paced read Ms. Anderson has penned in this story, of a hero struggling to get his memories back and a heroine that everyone thinks can help him because of their past. In the beginning, I felt sorry for the heroine, as she's only trying to help the hero and all he is to her is rude and determined to push her away. However, I liked that she didn't give up on Tomas because just as he helped her to get away from her uncle, she was determined to help him recover. To show him that he doesn't have to continue to hide from the world.
The dialogue was intense due to the main characters back stories and the history between these two that originally brought them together. Tomas and Zara share a special connection, which is palpable from the moment he saved her. He's never done anything so altruistic before, so what made the heroine so special that he would do it for her? Moreover, I liked the way he manipulated her uncle to free her from the man's constant verbal abuse and other ways where he thought he could keep her in line, because she desperately needed a savior to free her from her past, so she could become the strong, independent woman she is now.
As for the main characters, their playful banter – when Zara can coax Tomas out of his morose mood – is completely compelling and I loved every minute where the heroine manages to get the hero to let his walls down. She's a real challenge for Tomas; a woman that doesn't easily let him get away when he's finding it hard to deal with her without wanting to give in to the strong feelings he has for her. How long can he continue to deny them what they both want?
"I'm not bored," he answered ruefully. "I could never be bored with you in the house." His brows pleated. "Last night didn't happen because I was bored."
Flattery wasn't going to work. She refused to let it.
"You're not bored either," he added thoughtfully. "Are you?"
"How can I be, when I don't know if you're going to bite my head off or try to—" She paused in her retort.
"Or what?"
"Do something…unspeakable," she clarified.
Overall, this was a really good book where the romance does justice to this couple's intense chemistry, and I liked that Zara didn't give up on Tomas when the going gets tough. He needs her just as much as she needs him. The way this story ended was perfect, as Tomas realized that he couldn't continue to live the life of a recluse and the way he opened up about how damaged he is from his accident illustrates to Zara just how ready he is to have a future with her. His words brought tears to my eyes; because this time it seems they're rescuing each other and helping each other to heal from the hurts of their pasts. I would recommend The Forgotten Gallo Bride by Natalie Anderson, if you enjoy the second chance romance trope.
Book Info:

 February 21st, 2017 | Harlequin Presents |
"Do I know you?"
Zara Falconer's convenient wedding to tycoon Tomas Gallo freed her from her mercenary uncle. She believes their vows were swiftly annulled but, unbeknownst to Zara, a car crash wiped Tomas's memory before he could release her from their agreement.
Grateful to her rescuer, Zara agrees to be housekeeper at Tomas's English mansion while he recovers. Prowling the corridors is the tortured shadow of a commanding man—who she's shocked to discover is still her husband!
Being in close proximity to Tomas again awakens a powerful longing between them. Will this intense hunger remind him of the ties that bind them?