In The Happy Accidents by Jamie Beck, Artist Jess Clarke thought a weekend with her sister Liz and their best friend Chloe at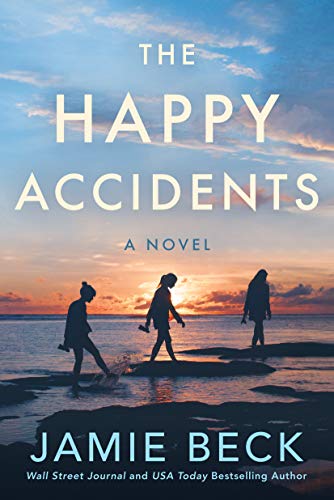 Foxwoods Casino would be just the thing to cheer her up. After (barely) surviving her divorce and with her birthday looming closer, she decides they can all use some time away from their busy lives to let loose a bit. But Jess didn't foresee the chaos it would create–for all of them–when they made a pact that night to have an adventure when it presented itself. And boy didn't they follow those instructions. Maybe a little too well. Because the issues they stare down the next morning are game changers for them all.
"Your stupid pact pretty much destroyed our lives."
"Destroyed your lives?" I mock her exaggeration. When no one softens, my concern deepens. "Whatever happened, it can't be so bad that we can't fix it."
Jess is faced with a dilemma that has her contemplating a whole new direction for her life, one that calls into question past decisions she's made. Her younger sister Liz, a TV show host and journalist, might have to switch careers if the video of her drunken rant gets posted online. And stay at home mom Chloe's bad luck at gambling could cost her family a few thousand dollars as well as making things tough between her and her husband. All three women will have some serious soul searching to do to find the right path forward. They're hoping between that and each other's support, this will prove to be the beginning of positive changes in their lives.
'I have a good heart. Some might argue that is the most important measure of a person. The question now is whether it can also learn to be brave.'
A heartfelt example of women's fiction done right, The Happy Accidents showcased author Jamie Beck's clear writing voice and on-point, emotional storytelling ability.
"Seems like our misadventures brought a series of happy accidents to us all."
I have to admire an author who can take characters with dissimilar personalities and give them a credible friendship that resonates with readers. And I think our terrific trio: Jess, Liz, and Chloe embodied that quite well. Alternately told from all three of their perspectives, I ended up thinking of them as The Artist, The TV Journalist, and The Supermom, respectively, until I got to know them better as the story played out. Readers will likely have one (or maybe more) character that they can empathize with the most, based on personal experience. But I think by the end, Jamie Beck will leave most people with an understanding of why Liz, Chloe, and Jess made the choices they did–and possibly even feel like they could see part of themselves in the trio.
I'm not going to lie that things started off a little rocky for me. I loved that we jumped right into "The Situation" that Chloe, Jess, and Liz got into at the casino on their girls' weekend. But when Liz, and to a little bit lesser extent, Chloe, blamed Jess for what *they* did? Nope. I was not okay with that. It resolved itself relatively quickly, thankfully. And from there, that's when each woman had to stand on her own to fix the issues that popped up.
To me, Jess and Liz being sisters meant there was a lot more baggage between them, so it was complicated when it came to shoring each other up when things went sideways. Beck delved into their family's past, how it affected them, and how everything changing present day meant Liz, Jess, and their parents had to come to terms with it all. Chloe's situation was a little different where she was a stay at home mom longing for her own place in the world. My heart went out to her. She was a *wonderful* woman. But because Chloe was a people pleaser it meant her loved ones sometimes took advantage of her. I think readers will be happy with how she stands up for herself and how Jess and Liz cheer her on.
Jamie Beck gave readers something to think about with The Happy Accidents, which was all about sisterhood, family drama, learning to stand on your own two feet, and grabbing hold of your dreams. Definitely recommended.

QOTD: Have you had a seemingly negative event or experience happen to you that later on brought about positive changes in your life?

Book Info:

Publication: Expected publication: September 21st, 2021 | by Montlake |
Three women wake up to the consequences of one impulsive pact in an insightful novel about friendship, love, and fulfillment by Wall Street Journal bestselling author Jamie Beck.
While at a casino to celebrate her birthday, Jessie Clarke proposes a pact to her reserved sister, Liz, and their childhood friend Chloe: the three women will say yes to any adventure that comes their way. Jessie is mourning her recent divorce, so the other two reluctantly agree. Twelve hours later, they awaken to the shocking consequences of their behavior.
A viral video throws Liz's career and reputation into question. A major loss at the craps table rocks the foundation of Chloe's staid marriage. And Jessie's desperate bid to unblock her artistic creativity results in a life-changing choice. Staring down the crossroads, each woman finds her relationships—with herself, with each other, and with loves both old and new—tested. At every turn, they struggle not to let fear decide their fates. Will they give in, or will their misadventures lead to the greatest fulfillment of all?