The Last Cowboy Standing by Carla Cassidy is the twelfth book in her Cowboys of Holiday Ranch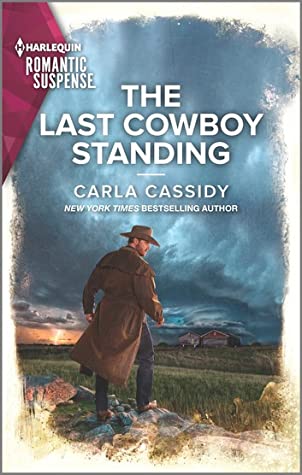 series.
Marissa Lindale survived a nightmare of captivity. She had been kidnapped and abused, held in the dark for sixty days. For some reason her captor released her after those long sixty days. He left her bound and gagged in front of the Bitterroot post office. Why he released her was unknown but he threatened to take her again when he wanted to. Marissa wasn't about to let that happen. She trained in self defense, got a trained guard dog and prepped the cabin she lives in now with lots of different weapons hidden throughout the cabin. "He" was not going to capture her again. In the meantime Marissa bought an abused horse that she felt a kinship with. She needed a horse trainer to help her rehabilitate the horse she named Spirit. That's where Mac McBride comes in. They call Mac a horse whisperer, but for Marissa he becomes the one person who can soothe her spirit as well as her horse's.
Mac McBride arrived at Holiday Ranch as a teenager along with eleven others who ranch owner Big Cass took in. Arriving at Holiday Ranch turned out to be his salvation. After his mother's death his alcoholic father abused him until he had enough and Mac ran away to live on the streets of Oklahoma City until his big break of going to the Holiday Ranch. Mac knew of Marissa's kidnapping and was surprised to hear from her about a job training a horse. No one in Bitterroot had realized she was living in the area. It didn't take Mac long to get to know Marissa well enough to start falling in love with her. That's why even when she insisted on pushing him away when the threats to her started again Mac would protect her.
This is a great ending to this series. It's the final HEA in this series of a group of lost young men finding their "one and only" love. Indeed Mac was the last one left standing until he met and fell in love with Marissa. I felt for Marissa after her ordeal and how broken she felt because of it. I cheered Mac on as her persevered in his love and protection of Marissa. It was great catching up with characters from the earlier books in the series.
Book Info:

Publication: November 30th 2021 | Harlequin Romantic Suspense | Cowboys of Holiday Ranch #12
A cowboy's back on the ranch… and ready to rescue his boss
Hired to work as a horse trainer, Mac McBride discovers that his new employer, Marisa Lindale, is as untrusting as her mustang. Years ago, she was tormented by a mysterious criminal and now her abductor has returned! Mac finds himself irresistibly drawn to Marisa and desperate to protect her…but her plans for revenge might risk both their lives.
From Harlequin Romantic Suspense: Danger. Passion. Drama.
Feel the excitement in these uplifting romances, part of the Cowboys of Holiday Ranch series:
Book 1: A Real Cowboy
Book 2: Cowboy of Interest
Book 3: Cowboy Under Fire
Book 4: Cowboy at Arms
Book 5: Operation Cowboy Daddy
Book 6: Killer Cowboy
Book 7: Sheltered by the Cowboy
Book 8: Guardian Cowboy
Book 9: Cowboy Defender
Book 10: Cowboy's Vow to Protect
Book 11: The Cowboy's Targeted Bride
Book 12: The Last Cowboy Standing