In Demolished (Blue Bay Crew #1) by Cathryn Fox, Summer Wheeler needs somewhere to hide after the death of her father and the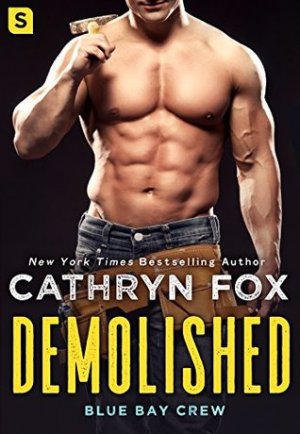 belief that her ex will do anything to get her back. However, it's not easy to hide her identity from the people of the town she's arrived in, especially when she was once part of the town. Add to the fact that there's one man, Sean Owens, that knows she's not who she says she is, is just asking for trouble. Will Summer reveal what's going on in her life, so Sean can protect her from her ex; or will Sean and Summer miss their shot at happy ever after?
"It's like this, my competition are going to see you coming a country mile away."
I pull my hand back. God, if he keeps touching me like that, I'm going to drop my panties for him again. "What's that supposed to mean?" I spit out.
"A single girl. A Blue cottage in need of repair. Old money." He rubs the rough pads of his thumb and forefinger together, and I stop breathing, not wanting to remember how I know those big fingers of his are rough. "They'll eat you alive."
Whenever I read a book by Ms. Fox, I find she pens wonderful reads with plenty of heat, great characters that entice a reader to keep turning the pages right from the beginning, and dialogue that entertains from start to finish due to the main characters back stories and the way the hero and heroine interact with each other that builds loads of sexual tension, and this story certainly had all in spades. The way this story started had me hooked and wanting to know more about the heroine, as she's needing a place to lay low and figure things out. Will she be to do that where she's ended up? However, it was from the moment the hero and heroine come face-to-face for the first time where things became really interesting, as there's so much chemistry between this pair right away that has Summer making a decision that could get her in trouble, especially since Sean is someone she knew in the past; someone that could no doubt see past her deception.
The dialogue was compelling and I really enjoyed the main characters back stories, as Sean has an interesting past with the town cop and Summer needs to figure out what she's going to do. Will she be able to get things sorted, so her ex can't hurt her anymore? Will the heroine learn the truth of what really happened to her father? Moreover, the heroine is resilient, courageous and I liked how determined she was to deceive the townspeople, even though it didn't seem to work on some no matter how much Summer wanted it to. I also liked how kind and caring the heroine was towards the hero's family, especially his grandma when it comes to the woman meddling in the love lives of her grandsons. While the hero, he's confident, hard-working and I liked how determined he was to win the heroine over, even though he wasn't looking for a relationship. I also liked how protective the hero was of Summer, because her ex is big trouble, especially considering what the heroine believes the man did. Yet, what I liked most of all about the hero is the bond he shares with the secondary characters in his brothers and cousins. They would do anything for each other, which is proven towards the end with what they do when it comes to Summer.
"Who is this girl that has you all tied up in knots?"
Sulking, Ty sits down, and even though I can tell he's trying hard to shut down his expression, there is a light in his eyes as Grandma Nellie talks about the mysterious girl who has, undoubtedly, gotten under his tattooed skin. "No one, Gram."
She shakes her head. "Don't tell me, then. I'll find out on Facebook later."
Overall, Ms. Fox has penned a delightful and scorching read in this book where the chemistry between this pair was explosive and spilled over onto the pages in fan-your-face sex scenes that definitely illustrate how good Sean is to the heroine. The way this story ended had me concerned for the heroine when it came to her ex, but I enjoyed how things worked out for Sean and Summer because they're good for each other. Will Sean be able to convince the heroine to stay? Will his surprise convince Summer that Sean wants her in his life forever, even after what she did that put her life in danger and made Sean angry? I would recommend Demolished by Cathryn Fox, if you enjoy red hot reads with a touch of suspense or books by authors Carrie Ann Ryan, Lorelei James, Maya Banks and Shayla Black.

Book Info:

Publication: August 29th, 2017 | Swerve | Blue Bay Crew #1
Summer Wheeler is on the run. Hiding from the men who killed her father, Summer is on her way to her childhood cottage in Blue Bay when she runs into Sean Owens, the forbidden bad boy from her past. After giving him a fake name, she gives in to one steamy night with him, never expecting to see him again.
Sean isn't sure why Summer is pretending to be someone she's not, but he'll play her game if that means he can indulge in one of his oldest fantasies – a night with Summer. He's shocked to see her when he returns to Blue Bay, and even more surprised when Summer offers him a job renovating her old family cottage. Hot workdays turn into hotter nights, but when Summer's secret catches up with her, she'll have to decide if she can trust Sean with her heart—and her life.