In The Matchmaker's Match (Man's Best Friend #3) by Nicole Flockton, a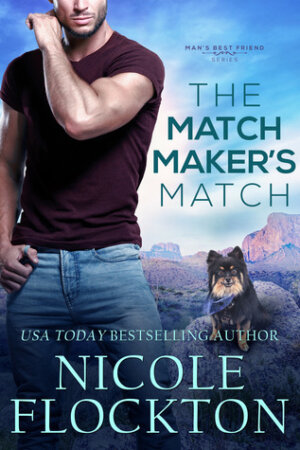 one-night stand was all it was ever supposed to be. However, when Meredith Turner discovers that Lincoln Forrest, the man she spent an incredible night with is the best man to her maid-of-honor at her best friend's wedding, she can't believe her eyes. Still, she can deal. Yet, the more time she spends with Lincoln, the more she finds herself falling in love. But with the disaster of her last relationship, is she willing to give Lincoln a chance or will they go their separate ways?
You know if we go to my room, talking or eating isn't what we're going to be doing."
Another of her smiles lit her face. "Oh, I know. Both are overrated. I'm looking for fun tonight, Luke. Are you okay with that? I'm leaving tomorrow and I probably won't be back in San Diego again."
He was more than happy to venture down the path of a one-night hookup. And maybe correct names didn't matter so much. "I'm totally on board with what you want."
Having read the first two books of this series and getting to know a little bit of Lincoln I couldn't wait to read this hero's story and I believe it's the best story of the series. Really, Lincoln is deliciously sexy, ex-military and a hero I couldn't get enough of because he's quite the matchmaker that finally meets his own match. The way this story started was interesting and introduces readers to the hero and heroine exceptionally well, as these two thought they'd never see each other again. But, surprise, and from the moment the pair are reunited this story really takes off.
As for the dialogue, it was entertaining because of the main characters back stories, this couple's growing relationship and the obstacles these two face to be together. Really, Lincoln is a little lost in terms of what he's going to do with his life now that he's out of the military and Meredith is quite a good distraction. Will he find a career that he likes and could see himself doing for years? Moreover, I really liked both the main characters and found the secondary characters just as entertaining as the main ones, especially since Meredith's best friend wants her to find the kind of happiness she's found with her man. Will her best friend's matchmaking efforts be a good thing for Meredith? Will Meredith take a chance on Lincoln, especially when her last relationship was such a disaster and has left her a little wary of relationships?
"Just think about my offer." She opened her mouth to rebuke him but he shook his head. "Don't say anything. I know you think it's impossible and farfetched, but give it some consideration. Better the devil you know." He leaned over and brushed his lips to against her cheek. "Take care, Meredith."
With the main characters, Meredith is strong, brave and I liked her determination to go after what she wants. I also couldn't help but sympathize with her because of all that she goes through. Really, there were moments when I wanted to cry for her because no woman should have to suffer such heartbreak. While the hero, he's kind, caring and I liked how determined he was to win the heroine over, even if it's only friendship she can give him. Yet, what I liked most of all about the hero was his willingness to help the heroine achieve her dream. Will Meredith be willing to accept his help?
Overall, Ms. Flockton has delivered a fun and entertaining read in this book which delivers a little bit of an emotional punch; a good dose of romance; and that ended wonderfully with Meredith realizing that Lincoln is a man she can trust with her heart. However, it was the epilogue that wrapped this story up nicely because these two have some very exciting news to share. I would recommend The Matchmaker's Match by Nicole Flockton, if you enjoy the matchmaking trope, the friends to lovers trope, the one-night stand trope or books by authors Kadie Scott, Jane Porter, Jessica Gilmore and Megan Crane.
Book Info:

Publication: June 18th, 2019 | Tule Publishing | Man's Best Friend #3
Could the best man be her best option?
The last person Meredith Turner expects to see at her best friend's wedding rehearsal dinner is the guy she had a one night stand with. What's worse, Lincoln Forrest is the best man and as maid of honor, her partner. To add insult to injury, she has to leave the rehearsal dinner early, and Lincoln is the one to help her with a deeply personal problem. The aftermath of that night brings big changes for them both.
Lincoln Forrest has helped his best friend meet the woman of his dreams, but recently he's made a series of bad decisions, the biggest being leaving his career with the Army. Now the former K-9 handler is looking for a new career and trying to get his life back on track. Helping Meredith in her time of need connects her to him more than he expected. On a mission to right the wrong he created, Linc will do whatever is needed. But when the attraction that first drew them together flares to life again, will the obstacles between them be too much to overcome? Or has the matchmaker met his match?