The Poet by Lisa Renee Jones: There's a serial killer on the loose and it's become quite personal for Austin Police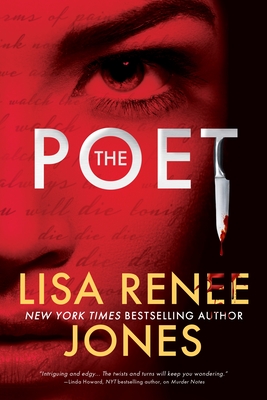 Detective Samantha Jazz.
Samantha Jazz's father was her Captain, and as it turns out was a dirty cop, who was gunned down right in front of her. She's working on dealing with the fallout from that. Now she has been assigned to a murder case because of her background. Victims are poisoned with cyanide and a paper with lines from poems are left in the victim's mouth.
The Austin PD detective assigned to the first murder investigation has seemingly disappeared. Samantha gets the case because she has a background with poetry. She is being assisted by her sometimes partner Ethan Langford and police IT/computer forensics guru Chuck Waters. Adding to the tension of solving the case and hopefully preventing more murders is the apparent drive by this serial killer to make these murders a personal challenge for Detective Jazz. The killer is obsessed with her. Now that's a scary thought.
The Poet by Lisa Renee Jones has a very detailed police procedural storyline. Police hunches are fine but evidence is what matters. Detective Samantha Jazz has to go above and beyond to catch the perpetrator. That perpetrator is a very, very evil person. The murders are gruesome There's lots of action throughout. I found myself reading as quickly as I could to get to the end of the story. I just had to know how it ended.
Book Info:

Publication: March 9th 2021 | Entangled: Amara |
"The poet is a liar who always speaks the truth." -Jean Cocteau
Some call him friend or boss. Some call him husband or dad. Some call him son, even a favorite son.
But the only title that matters to him is the one the media has given him: The Poet.
A name he earned from the written words he leaves behind after he kills that are as dark and mysterious as the reason he chooses his victims. One word, two, three, a story in a poem, a secret that only Detective Samantha Jazz can solve. Because he's writing this story for her.
She just doesn't know it yet.