The Princess and the Pediatrician by Annie O'Neil is the third book in the Harlequin continuity series The Island Clinic.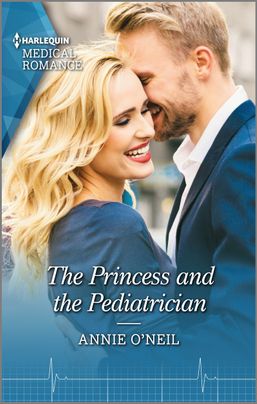 Dr. Lia Trelleburg is a princess, Princess Amelia of Karolinska to be exact. Lia is also a neurosurgeon practicing at the Island Clinic on the Caribbean island of St. Victoria far away from Karolinska and that's just the way she likes it. For Lia growing up a princess wasn't the fairy tale life people always think of when they hear "princess." Lia was sent away to boarding school after the forced divorce of her parents. It was a lonely life. Now living on the island of St. Victoria Lia feels free. Upon meeting Dr. Oliver Bainbridge Lia also finds happiness.
Dr. Oliver Bainbridge is a pediatrician practicing at St. Victoria Hospital. Living on St. Victoria island has made Oliver a happy man. He enjoys his job, is quite active and has lots of friends. Oliver could almost forget the sad event from the past here. Then he meets Dr. Lia Trelleburg and their one-night-stand results in Lia's pregnancy. Oliver was so happy to hear that he would be a father. He agreed right away to the Karolinska palace decree that he and Lia marry. He was willing to step into the limelight and deal with all that entailed. Oliver knew he was falling in love with Lia and was looking forward to a happy fairy tale ending.
This is a sweet romance. The main characters, Lia and Oliver, come from similar backgrounds; unattentive parents, boarding school and not wanting to be restricted by required protocol. They find in each other someone who understands how their upbringing affected their lives and decide to do all they can to lead free and happy lives. I liked the characters in this story. Elodie who is one of Oliver's pediatric patients brought a smile to my face. The kindness and understanding of Lia's new friend Grace added so much to the storyline. I also really liked Oliver's surprise "hen party" for Lia. So special.
Book Info:

Publication: July 27th 2021 | Harlequin Medical Romances | The Island Clinic Book 3
One Caribbean night together
One pregnant princess!
When Dr. Lia Trelleburg—aka Princess Amelia of Karolinska—meets hot pediatrician Oliver Bainbridge at a fundraiser, she decides to break the habit of a carefully controlled lifetime and indulge in a breathtaking night of passion. Only, Lia falls pregnant, and Oliver stuns her by agreeing with palace protocol—yes, they must marry! Despite the odds, could they really find the happiness they desire together…as a family?
A The Island Clinic novel
The Island Clinic quartet
Book 1 – How to Win the Surgeon's Heart by Tina Beckett
Book 2 – Caribbean Paradise, Miracle Family by Julie Danvers
Book 3 – The Princess and the Pediatrician by Annie O'Neil
Book 4 – Reunited with His Long-Lost Nurse by Charlotte Hawkes