Her damaged warrior. His childhood sweetheart
In the The Risk-Taker, the minute Gage returns to Sweetheart his home town he realizes that not only can he not have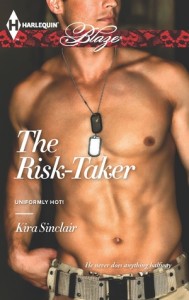 the woman of his fantasies but he also won't have a single moment of privacy. Journalists are out to get his story of what happened to him as a POW, including his high school sweetheart.
Hope has set out to get Gage's story, no matter what it takes. But feelings get in the way and this is where the story gets interesting.
I really enjoyed seeing this relationship bloom into a full fledged romantic adventure. Gage is my kind of hero, wounded, damaged and an alpha male who will protect any one and everyone he cares about. Hope was the perfect heroine and female lead for this book. She had spunk, and great character.
The Risk-Taker drew me in with all of its close knit families and compassion the characters had for each other.
It was a great Valentines Day  book. This was the first time I had read anything of Kira Sinclair's but it definitely won't be the last.
Rating
Publisher: Harlequin (December 18, 2012)
Subject: Totally buff ranger Gage Harper
Current Status: Walking wounded—both physically and mentally
Mission: Finally get the girl he could never have
Obstacle: She may just be the biggest risk he's ever taken
All returned POW Gage Harper wants to do is forget, even if he has to let some gym rat beat him to a pulp to do it. He certainly doesn't want to tell the tale of his heroism to the tabloids. Especially since he's no hero…. But one journalist is determined to get the inside scoop-and she's the only girl Gage has never been able to resist.
Hope Rawlings never took Gage's romantic advances seriously growing up. After all, she was just his buddy, and a guy like Gage could have any girl he wanted. But now she needs his story to get her dream job in the city. And she's willing to do anything to get it.