The Rules of His Baby Bargain by Louise Fuller is a November 2020 Harlequin Presents which I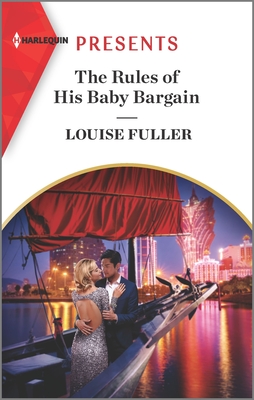 found to be rich with culture and emotion.
Macao has earned the nickname "Las Vagas of Asia" which helps set the scene for billionaire casino owner Charlie Law. Invited or ordered, depending on which way you like to look at it, Dora flies across the world to Macao with her little orphaned nephew Archie; Charlies half-brother, to meet Charlie and his family while the fight for his guardianship swirls in the background.
With both parties believing they are the best person to raise Archie, there's lots of friction and emotion but hearts collide. Thinking a marriage of convenience is the best way forward for all concerned, with the beautiful city as the backdrop, Charlie and Dora bond. Dora reaches out for her new future and Charie leads the way.
Generations of devastation caused by Charlie and Archies father weave throughout and book and it's captured with depth and intense emotion. Understanding Charlie and what drives him is delivered well and Dora is quite delightful and like a blossoming flower despite recent tragic events.
I really enjoyed The Rules of His Baby Bargain, it had depth and was rich with culture. Growing to know Charlie was done well and I loved visiting a city I'd never been to before. I really enjoyed this and recommend to anyone who loves this genre and troupe but is looking for something outside of the norm.
Book Info:

Publication: November 2020 | Harlequin Presents |
All bets are off…
…when duty and passion collide!
Casino mogul Charlie Law promised his dying father he'd find his infant half brother and bring him home. He didn't allow for the baby's aunt and guardian, Dora Thorn, to counter his every move. Or for her beauty to threaten his ruthless logic…
Where her nephew goes, Dora goes. He's all the family she has left—and she won't back down, even from a billionaire. But beneath the bright lights of Macao, their battle of wills becomes a delicious dance of desire. And then Charlie gambles everything…with his convenient proposal!