In The Spark by Vi Keeland, When Autumn Wilde returned from a Vegas weekend, she grabbed the wrong luggage in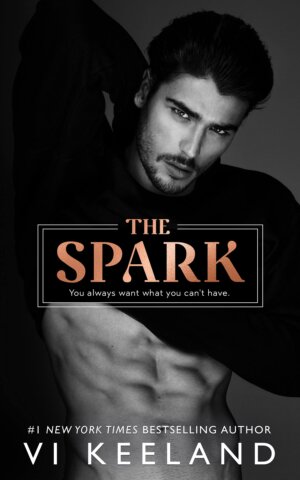 the whirlwind of getting through the airport. And unfortunately didn't notice until she was back in her NYC apartment. Praying the rightful owner of the mega expensive suits in the bag had her missing luggage, Autumn used the contact info and was in luck. One meet up at a local coffee shop later and she was smitten with sexy Donovan Decker. But a weekend–stellar as it was–was the only thing she could give him. The handsome, kind, generous man could quickly mean too much to Autumn, just when she was taking baby steps to learn to trust again. So after a fast retreat with no goodbye, she's shocked to see him several months later. Especially since their chemistry hasn't faded a bit…but their situation has gotten even more complicated.
"Are we just going to pretend that weekend never happened?"
I bit my bottom lip, praying it was a rhetorical question. When the silence stretched, I managed, "That would be great. Thanks."
Donovan smiled. "Nice try, but not a chance."
Donovan has tried for months to get red-haired beauty Autumn out of his head. But no matter what he does, he still hopes to see her again and find out why she bolted after their terrific weekend together. And to give things between them a real try. Donovan sort of gets his wish when he crosses paths with Autumn almost a year later. Their jobs intersect in a way that puts him directly into her daily life–if only for a short while. But the fact that she's now dating his boss, the man who can make or break his career, throws a wrench in the works. Donovan isn't afraid to fight for what he wants. Although, knowing Autumn is at risk of taking off again when things get intense has him working hard to keep things moving slowly. Good thing he's known for his patience.
"I crave you, Autumn. Want is too tame of a word. What I feel is much greedier than that."
Vi Keeland's newest romance, The Spark, brought the heat I expected but also tore my heart open over the battles our hero and heroine had fought in their personal lives. That glorious ending, though, made up for every tear shed along the way.
"The heart always wins in the end."
Trigger warning: View Spoiler »references to sexual assault, suicide attempt, infidelity, child abuse & abandonment, prostitution, and drug use. « Hide Spoiler
I was sold on the premise behind The Spark right away. The meet-cute between Donovan and Autumn, with their luggage mix up and their instant attraction, made me smile and rub my hands with glee to see how it would all play out. I honestly didn't expect their romance to be a slow burn after the way it started. But given where Autumn was emotionally in her life when they met, it made sense–once Keeland doled out more details about Autumn's past. And I think that might be what will either draw a reader in or push them away. If you like stories that unfold over time, this will be a winner for you. But if you want a fast-paced love story that happens in real time, not looking back months or years to prior events, this might not work well.
That being said, the characters in The Spark were what kept my interest piqued. I adored our hero Donovan. And I'm sure many others will, particularly when you get to see beneath the tough, sometimes smug, attorney exterior to the former bad boy with a ginormous heart he hid under those expensive suits. (lol) His terrible background will break your heart. But Donovan's compassion and loyalty was what called to me. Something that he put to good use with Autumn, considering her being a constant flight risk as she worked through her issues.
I have a feeling some of the decisions Autumn made might not sit well with some readers. I would say to give her a chance and read the entire story before making a decision on her character, because there was a whole lot we found out about her past towards the end of the story. And boy did it explain Autumn's hangups. I did think Keeland kept things real with our heroine, showing her flaws and mistakes but giving her room to learn and grow from it all. I also think it was not only Donovan stepping up to help Autumn that made a huge difference, but also their friends Skye, Bud, and even troubled tween Storm. Their impact changed the course of Autumn and Donovan's lives in the best way possible.
The Spark was a scorcher of a romance–once the main characters finally gave in to their feelings. Written with powerful emotions and an eye to the details that made each scene come alive, Vi Keeland has another entertaining novel on her hands.
QOTD: Autumn and Donovan had a fun "meet-cute" when their luggage was mixed up. Are you a fan of this element in romance?
Book Info:

Publication: Published July 12th 2021 | Pub: Vi Keeland |
Before I even met Donovan Decker, I knew his shoe size.
You see, I'd gone away for a few days, and in my haste to get out of the airport, I'd grabbed the wrong suitcase.
After checking out the expensive footwear and tailored clothes, I dialed the number on the luggage tag hoping maybe Mister Big Spender might have my bag. A deep, velvety voice answered, and as luck would have it, he had my suitcase, too.
Donovan and I met at a coffee shop to do the exchange. Turned out, it wasn't just his voice that was sexy. The man holding my luggage was absolutely gorgeous, and we had an immediate spark.
He got me to admit that I'd snooped in his bag and then convinced me to make it up to him by letting him buy me coffee. Coffee led to dinner, dinner led to dessert, and dessert led to spending an entire weekend together. Donovan wasn't just handsome with a panty-dropping voice. He was also funny, smart, and surprisingly down to earth for a man who wore seven-hundred-dollar shoes.
Did I mention he also did my laundry while I slept?
Definitely too good to be true.
So what did I do to repay him for his kindness?
I waited until he was in the shower, then ghosted him.
My life was too complicated for such a great guy.
In the months that passed, I thought about Donovan often. But New York City had eight million people, so what were the chances I'd run into him? Then again, what were the chances I'd run into him a year later…when I'd just started dating his boss?