The Tycoon's Socialite Bride by Tracey Livesay is a marriage of convenience story with a refreshing twist. Old money versus new money is just one of the prominent themes woven throughout the book.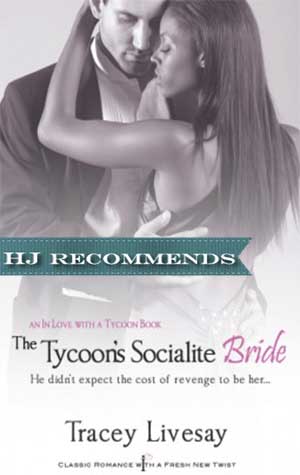 Pamela Harrington is a gorgeous, well-educated woman that comes from old money. Most people perceive her to be the ultimate snob, due to her lineage, her place in Washington DC society and her father, a former Senator, who is still politically active. She is anything but, always willing to help others regardless of their social stature. Pamela's independence and strong-will provides constant annoyance to the Senator, who is only concerned about upholding established family traditions, her marrying within the right social circle and attending charitable events that will provide him with the most public exposure. The fact that she volunteers as much as possible for a local women's shelter just drives him batty. Now that the shelter is in jeopardy of losing their lease, Pamela is on a mission to convince the new owner to let her buy the building or at least extend the lease.
Marcus Pearson is a hot, self-made real estate tycoon who just happens to be the new owner of the building that houses the women's shelter that Pamela is passionate about. After Marcus's father died from cancer, his mother worked as much as possible in order to provide food and shelter for the two of them, which meant leaving him home alone a lot of the time. When she was blacklisted from future employment by hoity-toity, blue-blood hotel owner David Holcombe, Marcus made it his mission in life to one day purchase his hotel and destroy the Holcombe legacy. Now he is so close he can taste the revenge, he only needs an old money connection to seal the deal.
Pamela tracks Marcus down at the country club and when their eyes meet, the sparks ignite. After some initial yelling and harsh words, they strike a deal and agree to marry for convenience, which will result in Pamela getting the building for the shelter and Marcus buying the hotel, because now he is associated with old money. Of course they did not factor in falling in love, which ultimately causes Marcus to have an epiphany.
I really enjoyed this book. Pamela and Marcus are extremely likeable, have great chemistry and are just perfect for each other. I love the way the author developed their relationship by smoothly turning sparring partners into lovers. The sex scenes are passionate and hot. I found Ms. Livesay's voice to be fluid and soft, even when the Senator was being irrational. This is a wonderful book, replete with great characters, a plot that twists and turns in all the right places, and an intelligent love story.
Book Info:

Publication: February 10th 2014 by Entangled: Indulgence
To avenge his mother's mistreatment at the hands of her upper-crust employer, self-made real estate tycoon Marcus Pearson needs entree into their exclusive world. When D.C. socialite Pamela Harrington comes to him for help, Marcus realizes the golden admission ticket he's been seeking has suddenly fallen into his lap.
Pamela will do anything to save her favorite cause, even agree to a marriage of convenience. The altruistic "it-girl" isn't worried about the pretend passion with Marcus turning real; she's sworn off powerful, driven men who use her for her family's connections.
So she'll deny the way her pulse races with one look from his crystalline blue eyes. And he'll ignore the way his body throbs with each kiss from her full lips. Because there's no way he'll lose his blue-collar heart to the blue-blooded beauty.