The Unmatchmakers by Jackie Lau: When Leora goes to spend the weekend with her mom and her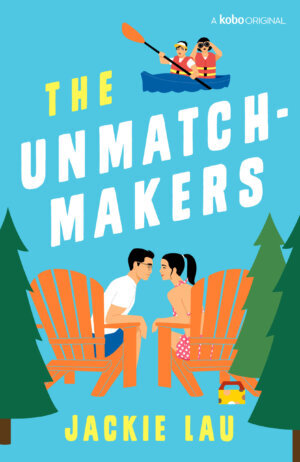 friends, the last thing she expects is to a glow up from Neil, her mom's best friend's son who she slapped as a child. She's so surprised by it that she almost falls in the lake. Tongue twisted, she tries to act as cool as possible while trying not to ogle him. When she assesses her immediate reaction to him, she makes the decision to not pursue him because of her mom's friendship.
However, when they unexpectedly find themselves having stolen moments alone (in the form of being the first ones awake), she starts to question whether she is making the right choice. Between hidden glances and small smirks, the two start to form a friendship with the potential of more. With meddling mothers, nosy friends, and only one house, they have to explore how they truly feel and decide whether their emotions are worth it.
First of all, most of my focus will be on Leora since the book is told from her POV. Leora grew up knowing how her mom felt about relationships after her mom's relationship with her father ended horribly. Her mom has always been vocal about what she wants for Leora, and Leora never wanted to rebel against it. For the first time, Leora is questioning her mom's motives when they are at the house.
When she finds out that her mom and friends were meddling in her and Neil's blooming friendship/relationship, Leora has to decide whether she wants to follow her mom's advice or stand up for herself. From the beginning to the end, I loved everything about Leora's character. She was very strong-willed in the way she interacted with everyone else and we got to know her for who she truly is.
Overall, the book was such a cute romance. It had a great story arc and amazing character development. It was an easy read and I can't wait to read other writings from the author!
Book Info:

Publication: June 28, 2022 | Kobo Originals |
From the author of DONUT FALL IN LOVE comes a perfect summer love story set in the forested paradise of Canadian cottage country that asks the question: can love beat the odds when the odds are two mothers dead-set against it?
—————-
You'd think my mother would be trying to set me up with architect Neil Choy, the unmarried son of her best friend. But you'd be wrong.
My single mother has always been fiercely independent. Since I was a small child, she's always told me not to believe in fairy tales and that I don't need a man. So she's failed to mention that Neil is a total hottie in glasses. When I see him for the first time in a decade, on a multi-family cottage vacation, I'm in for quite a shock. (In fact, I nearly fall in the lake, but let's keep that a secret.)
He sure can grill a mean steak and mix a killer cocktail, plus he's pretty impressive in a kayak. Yes, he's a little stern and grumpy, but that just makes him more fun to tease—and makes it more satisfying when he quirks his lips in my direction.
Even though my mind is spinning romantic fantasies, I'm not entirely sure how he feels. And I'm afraid that if anything happens between us, it'll screw up the friendship between our staunchly anti-relationship mothers. Especially since they've been acting increasingly weird since we arrived—I will never forgive them for the S'mores Incident. In fact, I think they're trying to sabotage my love life, and I'm starting to worry that I won't make it through this bizarre summer vacation…
—————-
Perfect for fans of Helen Hoang's THE BRIDE TEST and THE DONUT TRAP by Julie Tieu, THE UNMATCHMAKERS is a forced-proximity, friends-to-lovers romantic comedy that explores finding the balance of meeting expectations and being true to yourself, and how even the best of intentions can sometimes backfire.