Today Tomorrow and Always by Tessa Bailey: Having been kept secluded from the family and the world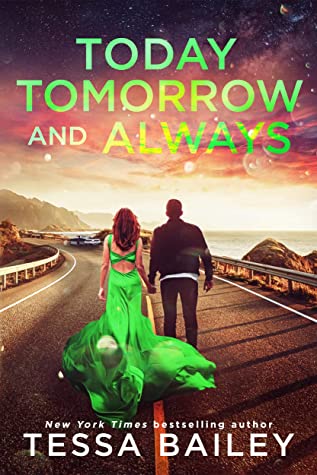 because of her blindness and glass shattering screams fairy Mary is determined to finally do some good and unite her broken family and if that means marrying an evil psycho vampire and possibly starting the war of all underworld wars then so be it. Like it really can't be that hard right? Completely prepared to face her new life that is until she meets her adorable Uber driver Tucker.
"My blindness has been a curse my whole life. But you don't make it feel like that. You fill my head with beauty. You make me feel like I'm already whole. Like I don't need to change a single thing to be accepted or loved."
Tucker has to be the least vampire-ish vampire in the history of their kind, completely uninterested in quests of any kind. With his human heart very much still alive deep down Tucker has never truly felt like anyone understood him that is until he meets fairy Mary. There is just something about her that calls to his soul, as the two embark on a road trip they find their connection growing stronger and stronger as they question the past, present and future. However with a major battle looming these two oddball are forced to face some big sacrifices for a lifetime together.
"You are the first and last. The only one I'll ever want or need or lust for. You're mine, Mary. No matter what, you are mine."
This was a first for me, normally I am not a major fan of the paranormal trope but I have to say Bailey has converted me! I absolutely adored Tucker and Mary, these two wormed their way right into my heart. I loved the pull between these two characters and all the antics that they got up to as they went from one end of the country to the other for Mary's upcoming nuptials.
"I'd fight the world if you asked me to."
Tucker was just perfect! I loved that he was a mix of over the top alpha and soft huggy bear. It was so cute seeing him get all over protective over Mary. As for our fairy Mary, I loved that she did not allow insecurities to hold her back and helped push Tucker out of his own self conscious shell. Their entire journey was packed with adventure, drama, laughs and self awareness.
"I'm staying with you," she whispered. "You're keeping me and I'm keeping you."
Today, Tomorrow And Always was an absolute delight to read, I loved being transported to this world filled with vampires, fairies and all things magic and mystical. This can be read as a stand alone romance but I am definitely going to be catching up on the rest of this series and suggest you do to!
Book Info:

Publication: April 27th 2021 | Tessa Bailey | Phenomenal Fate #3
Tucker isn't interested in quests, thank you very much. Though the cigar-smoking, Uber-driving vampire has long been an official member of the undead club, his very human heart still lurks inside of him—and no one has ever spoken to it more clearly than Mary…the fairy he'll be driving to her wedding. Where she'll be marrying someone else.
Quests, right?
Mary's blindness and window-shattering scream have forced her into seclusion since childhood. A seeming burden to her splintered family, she jumps at the chance to reunite them. All she has to do is marry an evil vampire, facilitate an unholy alliance and potentially start an underworld war. Easy, right? No, but it was doable. At least until Tucker.
The pair of misfits embark on a road trip that will have them questioning the past, present and future. Their building passion and trust in one another is undisputable, however. And as the battle looms, they'll have to decide just what they're willing to sacrifice for a lifetime together.