In Under the Southern Sky by Kristy Woodson Harvey, As an investigative journalist, Amelia is used to digging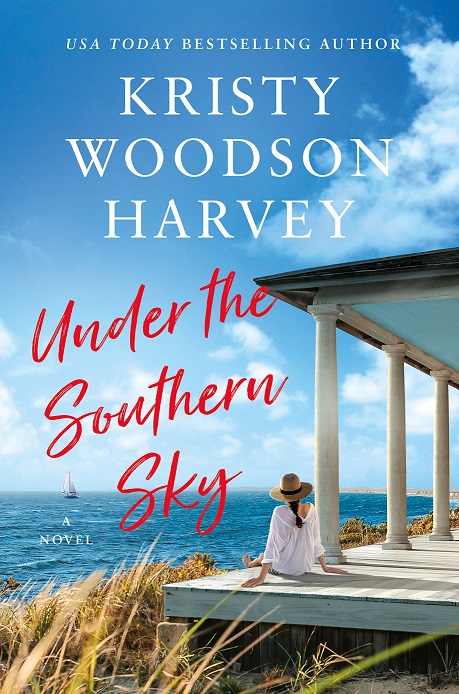 deep into subjects that most people don't even think about on a daily basis. Frozen embryos are definitely one of those. Newly divorced and still feeling the sting emotionally, Amelia honestly wasn't ready to find out that one of her childhood friends, Parker, and his now deceased wife Greer, have embryos still in storage. Something she's sure Parker has forgotten about while mired in grief for the past three years. She hates to be the one to tell him it's time to make a decision what to do with them. But Amelia knows it might just be the one thing that can help her friend find a bit of light in all the dark he's been through.
"I can't move on," he said. "Greer was just it for me."
I nodded knowingly, looking down into my mug. "Yup. Thad was pretty much it for me, too."
We both laughed. Same sentence, totally different meanings.
Grief and work is pretty much all Parker has known since his beloved wife Greer lost her battle with cancer three years ago. So when a face from his past, his childhood neighbor Amelia, comes calling and gives him the news about the frozen embryos, all Parker can think is that it's something precious left of his wife. A way to feel a connection to her again. Even if it means having another woman carry the baby and him parenting alone. He should have known that Amelia would try to be there for him as much as possible. Although she has a lot going on since her divorce as well. Taking a trek home to North Carolina, visiting their childhood homes, has Parker and Amelia thinking of family, friendship, and possibilities. But when familial and personal secrets start rising to the surface, will they be able to handle it all? Or will it send them reeling off on their own paths?
'I had been holding on to the past so hard that I couldn't even imagine the future.'
Kristy Woodson Harvey had a deft hand stirring the pot in her characters' lives in Under the Southern Sky. Secrets, grief, loneliness, new opportunities, and unrequited feelings made this a powerhouse novel absolutely full of *all* the emotions.
'Southern mothers must meddle. It is in our DNA. We can't help it, and, for heaven's sake, who would want us to? Our meddling makes the world a better place.'
Trigger warning: View Spoiler »Cheating, infertility, terminal cancer and end of life details. « Hide Spoiler
I always enjoy a story by Kristy Woodson Harvey so I had a feeling that even though Under the Southern Sky sounded very complicated, I would still be able to connect with the characters. And in true fashion with her work, that was certainly accurate. Although I wasn't expecting just how invested I would be in what ultimately would happen with Amelia and Parker, his decision about his deceased wife's frozen embryos, or what the future held for Amelia's family home.
I must say that KWH sure led her readers on a wild ride. One that ended so much more hopeful and happy than I could have imagined from how things started off for all involved. There were so many intricate connections between the characters that it kept me fully engaged–and also had me trying to piece it all together. Because KWH gave us not only Amelia and Parker's POVs, but journal entries from his deceased wife Greer, and we had a few passages from Amelia's mother Elizabeth. All of which led to some shocking revelations.
It might sound like a lot to take in. But it was laid out in a perfect way to keep the evocative storytelling interesting and to have readers actively thinking things through. It was actually quite fun to uncover all the serendipitous threads that tied Parker, Greer, and Amelia together. Not all of it was tragic or sad. There were thankfully quite a few moments that were entertaining as well as superbly romantic. And I think the scenes with their families interacting back in North Carolina will warm readers' hearts as easily as it will make them chuckle.
Under the Southern Sky explored what family, friendship, and love truly means in a tangled up world filled with seemingly endless issues. What pulled it all together was Kristy Woodson Harvey's charming writing voice, filled with Southern grace and the genuine depth of her characters' feelings during their bittersweet ordeal.
QOTD: Amelia and Parker's small coastal hometown was their safe place to fall back on when anything went wrong. Do you find comfort in small town/rural settings or in a bustling city?
 
Book Info:

Publication: Published April 20th 2021 | Gallery Books |
Two childhood friends discover that love—and family—can be found in unconventional ways in this timely, moving novel from the USA TODAY bestselling author of the "beautifully Southern, evocative Peachtree Bluff series" (Kristin Harmel, internationally bestselling author of The Winemaker's Wife).
Amelia Buxton, a dedicated journalist and a recent divorcée, never expected that uncovering the biggest story of her career would become deeply personal. But when she discovers that a cluster of embryos belonging to her childhood friend Parker and his late wife Greer have been deemed "abandoned," she's put in the unenviable position of telling Parker—and dredging up old wounds in the process.
Parker has been unable to move forward since the loss of his beloved wife three years ago. He has all but forgotten about the frozen embryos, but once Amelia reveals her discovery, he knows that if he ever wants to get a part of Greer back, he'll need to accept his fate as a single father and find a surrogate.
Each dealing with their own private griefs, Parker and Amelia slowly begin to find solace in one another as they navigate an uncertain future against the backdrop of the pristine waters of their childhood home, Buxton Beach. The journey of self-discovery leads them to an unforgettable and life-changing lesson: Family—the one you're born into and the one you choose—is always closer than you think.
From "the next major voice in Southern fiction" (Elin Hilderbrand, #1 New York Times bestselling author), Under the Southern Sky is a fresh and unforgettable exploration of love, friendship, and the unbreakable ties that bind.