In Weather Girl by Rachel Lynn Solomon, Ari Abrams dreamed of one day becoming a TV meteorologist just like Torrance Hale,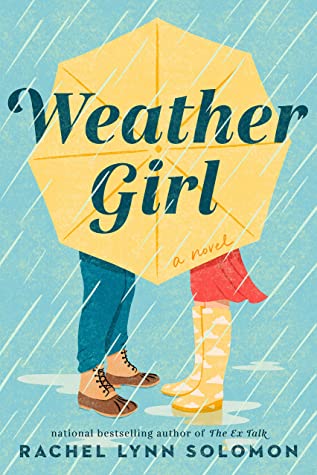 her childhood role model. And after much hard work and maybe a few tears shed, she's actually working in the same Seattle TV studio as Torrance, who has since become a legend in the industry. But you know what they say about meeting your heroes–or heroines, in this case: it doesn't live up to expectations. Sadly, that's where Ari finds herself these days. Loving her job and everything about the weather, but cringing every time Torrance and her news director ex-husband have yet another knock-down-drag-out argument in the studio.
"So we're really going to Parent Trap our bosses," I say, hoping it'll sound more believable once it's out of my mouth. Nope. Still absurd.
"We really are."
Everyone at KSEA tiptoes around the Hales and Ari is sick of it. She wants to be mentored as planned by Torrance and to have a drama-free workplace. And it seems that one of the sports reporters, Russell Barringer, commiserates with her. As they spend an evening drinking at a hotel bar after a memorable blow up between the Hales, Ari and Russell wonder if they could create chances for their bosses–who still have feelings for each other–to reunite. What could possibly go wrong? Well, each plan they make encounters, let's say, a few hiccups. And then there's the chemistry between Ari and Russell. Something neither expected yet seems surprisingly right. But when their real lives interfere in their burgeoning romance, will Russell and Ari have what it takes to make it work?
'I have no way of knowing what would happen if I gave him every broken piece of me–and it's the uncertainty that keeps those pieces stashed away.'
Rachel Lynn Solomon's writing is an utter delight. Her addictive new novel, Weather Girl, had me captivated with its adorkable couple, their foray into matchmaking, and the highs and lows of their own personal lives as they unexpectedly fell head over heels in love.
"I love every version of you."
This was my first experience with Rachel Lynn Solomon's work–although The Ex Talk is on my TBR, but not for long!–and I couldn't be happier with how Ari and Russell's book turned out. Overall it was a rom-comish, sexy storyline (think: Christina Lauren) with lots of chuckles, fab dialogue, and two big-hearted main characters who I adored. Russell was a great beta hero, with his shyness around Ari, his generous nature, and even the fact that he wore glasses and wasn't all chiseled with abs of steel…it was real and it made me fall for him even more.
What really drew me in with Solomon's writing was how genuinely she captured Ari's ongoing struggle with anxiety and depression. It was raw. It was sad at times, even as Ari tried to be at her sunshiney best. And I felt it on a deeply personal level–enough so that during one of Ari's Dark Days, reading her thoughts on how she felt had me in tears and emphatically saying "YES". I honestly don't think I would have felt that strong of a connection to Ari if RLS herself hadn't used some of her own personal experiences with depression to explain what it's like. Something she talks about in the Letter to Reader at the beginning of the book, which is definitely worth a read.
Whether it's the cute chapter titles that will grab your attention, the diversity of having a Jewish heroine and seeing parts of the religion woven into her life, or the comical escapades she embarks on, I think romance fans will love their time reading Weather Girl.
QOTD: Have you ever tried your hand at matchmaking? If so, how did it turn out?
Book Info:

Publication: January 11th, 2022 | Berkley |
A TV meteorologist and a sports reporter scheme to reunite their divorced bosses with unforecasted results in this charming romantic comedy from the author of The Ex Talk.
Ari Abrams has always been fascinated by the weather, and she loves almost everything about her job as a TV meteorologist. Her boss, legendary Seattle weatherwoman Torrance Hale, is too distracted by her tempestuous relationship with her ex-husband, the station's news director, to give Ari the mentorship she wants. Ari, who runs on sunshine and optimism, is at her wits' end. The only person who seems to understand how she feels is sweet but reserved sports reporter Russell Barringer.
In the aftermath of a disastrous holiday party, Ari and Russell decide to team up to solve their bosses' relationship issues. Between secret gifts and double dates, they start nudging their bosses back together. But their well-meaning meddling backfires when the real chemistry builds between Ari and Russell.
Working closely with Russell means allowing him to get to know parts of herself that Ari keeps hidden from everyone. Will he be able to embrace her dark clouds as well as her clear skies?