A Weaver Beginning by Allison Leigh: Weaver deputy Sloan McCray isn't sure how long he plans to stay in the small town. A former ATF agent, Sloan is used to staying on the move and not settling down. He has halfway through the lease on his house and his temporary appointment with the sheriff's office when sassy Abby Marcum and her shy brother Dillon move in next door. His attraction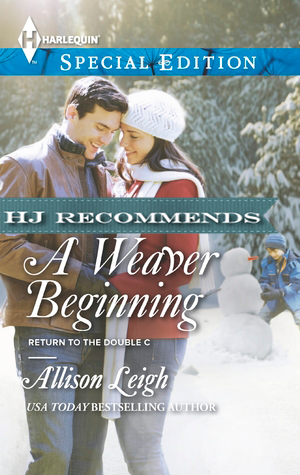 to the elementary school nurse is immediate. But Sloan doesn't do relationships and love, least of all with a woman with responsibilities to a young child.
"What d'you need?' 'Wood, actually.' The devil on his shoulder laughed at that one. No problem there. The angel on his other should had him straightening from the doorjamb."
Abby Marcum hopes that moving Dillon to Weaver isn't a mistake. She's been raising him on her own since her grandfather died and her grandmother had to be put in a home, but she's not sure she's making the best decisions for him. Men run at the thought of a woman raising a child in her experience, so she tries to ignore her sexy new neighbor after he lets her know he isn't a forever kind of guy. But how can she resist him when her usually reserved little brother begins opening up to him in ways she's never seen him open up before?
'Think your sister's afraid,' Sloan told Dillon, sounding very man to man. 'You don't have to be afraid, Abby' Dillon assured her earnestly. 'You won't fall or nothing.' 'Or anything,' she corrected faintly. But she was afraid. Not of falling off but of falling, period."
I really enjoyed A Weaver Beginning. Ms. Leigh does a great job of giving her characters believable personality quirks and failings. It was easy to see that Sloan was a good guy who was very conflicted about the choices he'd made in life and how he should go forward. Abby's determination to give Dillon the same loving home life her grandparents provided to her wasn't as self-sacrificial and martyr-like as it would have been portrayed by a less skilled writer. Ms. Leigh strikes the correct balance between flawed and wounded in her characters to leave them their agency. The supporting characters are also a lot of fun. I would love to read a story with Dee and Principal Gage, and read how Tara and Axel got together. If any cast of supporting characters has the potential to spawn a series, it was this one.
A Weaver Beginning deals with real issues and doesn't shrink away from them. Ms. Leigh dealt very skillfully with some weighty issues that could have dragged the story down in tone in a way that didn't detract from the love story being written. I thought this was one of the strongest elements of A Weaver Beginning–Ms. Leigh's ability to make the story realistic without losing the magic.
There were a few things I didn't like about A Weaver Beginning. I found Sloan's initial hot and cold reactions a little too…consistent to be as realistic as the rest of the story. I also didn't like that thing he does towards the end of the book that I can't write because it would ruin it for the readers. Even though I can't write about it, I will say I didn't like it because it made the ending feel more rushed than it had to be.
Despite these small grievances, I think that A Weaver Beginning is a solid read. I would recommend it to anyone who enjoys romances with a wounded hero who's a real hero, a heroine determined to make a better life for her family, small town nosiness, and precocious children.
Book Info:

Publication: September 17th 2013 by Harlequin
USA TODAY bestselling author Allison Leigh introduces readers to a reluctant hero—and the woman who just might heal his wounded heart—in this newest addition to her popular miniseries, Return to the Double C!
Small town deputy Sloan McCray was making amends for his past. They called him a hero but only he had to live with the difficult choices he'd made. And he certainly wasn't prepared to fall in love again, not even with his beautiful—and innocent—new neighbor, whose very presence was a balm to his troubled soul.
There was no doubt in Abby Marcum's mind that Sloan was the guy for her. Though she'd moved to Weaver, Wyoming, to make a better life for her little brother, she saw her future with Sloan. Now she had to convince the man who felt unworthy of love that she and her heart were his for the asking….