It's Love, Dude by Jenny Schwartz: Molly Gerogious is a reserved young woman from Jardin Bay, a small town in Australia. She is on the shy-side, but ruthless when it comes to fighting for her community and those who live in it. Molly is the social secretary for the local Member of Parliament, Greg Cooper, and is extremely knowledgeable about the fauna, flora and happenings in her town. She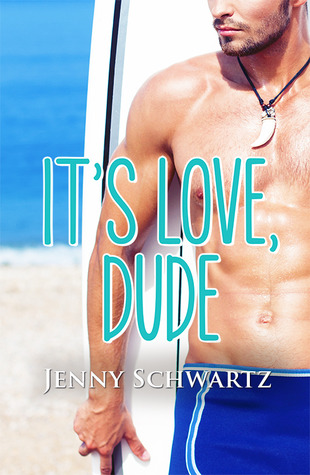 is cute, well-liked and the townspeople admire her chutzpah. Molly has always lived her life conservatively, that is until she meets hometown World Champion surfer Zane Carlton, during the opening of the town's new skate park.
Zane notices Molly immediately and is determined get to know her better while he is town adding sportsmanship as well as sophisticated style to the new skate park. With the paparazzi all over the place, it is difficult for Molly and Zane get any private time, however Zane manages to ask Molly out on a date.
Unfortunately, Zane's agent calls and he has to return to his home in Malibu, so they share a few mind-blowing kisses instead of a date. Luckily, they are able to turn their instant attraction into a full blown relationship via Skype and texts. Molly even surprises Zane when she shows up at a couple of his competitions.
In the meantime, Molly is working with Zane's Grandad, and a few other local folks to prevent the building of a housing development on some local prime swampland. They believe that the endangered woylie is making its home in the swamp and if they can prove its existence, the land will remain undeveloped so that the woylie can rebuild its population.
This is a warm read, complete with enjoyable and comfortable characters you would gladly like to have as friends. The plot is interesting and I enjoyed the Australian setting. I found the pace of the story relatively slow and development of the relationship between Molly and Zane a little difficult to believe. Overall, a nice read.
Book Info:

Publication: October 2013 by Escape Publishing
Zane Carlton is a World Champion surfer. Molly Georgiou is a shy, small-town girl. They have nothing in common except an instantaneous attraction and an impossible quest for a rare, endangered Australian marsupial. But Zane is determined to make it work, and invites Molly to take a step into his world. But Molly isn't ready for the spotlights and attention — she loves her town, its quirks, its characters. Opposites attract, but can two such different people find both a woylie and forever?