What She Knew by Barb Han is book #5 in the author's Rushing Creek Crimes Spree series. This story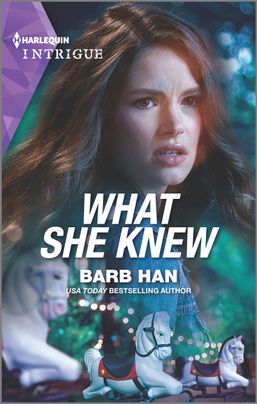 features the youngest sibling in the Kent family, Amber Kent and her brother Will's one-time best friend Rylan Anderson.
It's not easy being the only girl in a family with five overprotective older brothers to deal with. Even now, as an adult, Amber Kent likes to show her independence. So when she gets a phone call from Rylan Anderson asking for help she agrees. Rylan had been her brother Will's best friend until something happened in their teens to destroy that friendship. Amber isn't going to let that stop her from helping Rylan. Rylan joined the Navy after high school and became a SEAL. He's back in Jacobstown again needing help with a baby and Amber finds herself still attracted to him. Helping him with baby Brooklyn means lots of together time which makes the attraction hard to fight. A beautiful baby girl was dropped off to Rylan and he has no clue how to take care of a baby. Who is this baby? Where's her mother? Is Rylan her father?
Rylan Anderson is back in Jacobstown after leaving the Navy. He purchased a fixer-upper house where he plans to figure out what to do now. When a man drops off a baby girl and a diaper bag then runs away Rylan knows he is in trouble. He knows nothing about taking care of a baby. That's why he calls Amber Kent. When someone tries to abduct baby Brooklyn while Amber is out for a walk with the baby Rylan knows he has to protect them both. The mystery deepens but Rylan is determined to find answers.
I always enjoy reading the best friend's sister trope. Even though Amber's brother Will and Rylan are estranged this still fits the trope for me. Amber doesn't know what happened to end Will and Rylan's friendship but that doesn't stop her from helping. This is an incidental part of the storyline as the baby and the people trying to snatch the baby is front and center. This author does a great job building the suspense in this story and all the action will keep readers turning the pages. The overall arc in this series, the Jacobstown Hacker continues in this book with the Hacker escalating. That being said, I think this can be read as a stand-alone and enjoyed.
Book Info:

Publication: May 1st 2020 | Harlequin Intrigue | Rushing Creek Crime Spree #5
She's the only one who can help an old crush…
And the baby who appeared on his doorstep.
When Amber Kent's old friend navy SEAL Rylan Anderson suddenly becomes the guardian of a baby, he turns to her for help. But then the baby's nearly abducted in Amber's care and it's clear the situation is more complicated than it seems. Can they discover the truth behind the baby's identity…before she's gone for good?
USA TODAY Bestselling Author