Wildflower Road by Janine Rosche: Shane Olson had everything going for him, his life was perfect, he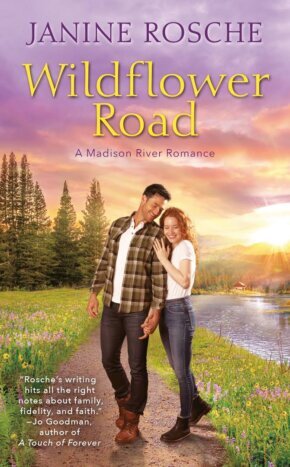 had his dream job and a beautiful wife, but not all was what it seemed. His entire world came crashing down around him the moment he realised his perfect wife has been having an affair behind his back with his very own best friend. To make matter worse a video of Shane losing it and giving his no good friend a beat down goes viral which lands he in jail. With his marriage shattered and losing his job as pastor, Shane finds himself in need of a fresh start which is what leads him to Montana and the beautiful Ryann.
"He smelled like her past. He smelled like her future. Warmth flooded the marrow of her bones."
Ryann has had her fair share of ups and downs, after the death of her husband which still weighs heavily on her, she now finds her self with the added burden of trying to help her family save their riverside resort. The one thing Ryann did not expect was to have such a strong pull toward their new chef Owen. From the moment the broody newcomer arrives in his tiny car Ryann knows there is something about this guy that calls out to her. But with the constant unwanted advances from her former brother-in-law who practically owns the entire riverside town and is threatening her family's resort how will Ryann be able to get herself out of this jam with both her family's business and her heart intact?
"How dare he look so good when she needed to forget he existed. She knew herself too well. Too many thoughts led to a crush. A crush led to all kinds of trouble, she'd learned. She'd need to keep as far away from Shane Olson as this little piece of Montana would allow."
I absolutely fell in love with this beautifully painful love story. From the very get go I found myself captivated by Owen and Ryanns story, these two characters have both been through a tough patch with pain that they both still carry around in their daily lives, that is until they meet each other. I loved that it was almost like they were healing each other and that while together their worlds didn't look so dim.
"We've all fallen from grace at one time or another. Not everyone knows how to accept the hand back up."
Faith and belief were a major factor throughout this novel but in such a way that it did not feel overwhelming or stuffy. I liked that Ryann helped Owen find his faith again after he had lost all belief in it. Now onto the secondary characters; I absolutely loved Ryann's group of friends and that they all rallied to help Ryann and Owen deal with the very annoying brother-in-law. Though I will say this plotline had me sitting at the edge of my seat right to the very end. I have to give the author a big shout out for the beautiful description of Yellowstone and all the scenery.
Wildflower Road is a beautifully written novel about two lost souls seeking their path to redemption that find each other on their way. I would most definitely recommend reading this emotionally moving contemporary novel that touches on a lot of deep topics but still keeps true to being a clean romance.

Book Info:

Publication: October 13th 2020 | Berkley | Madison River Romance #2
A young widow is tempted to love again after her heartbreaking loss in this new Madison River Romance.
After her husband's tragic death, Ryann Marie Ashcroft's only remaining dream is to save her family's struggling mountain resort. And the last person she wants to rely on is a brooding stranger with secrets of his own.
Nicknamed America's rock-and-roll pastor, Shane Olson arrives in Montana after a viral video destroys his marriage, his ministry, and his reputation. Working side by side on the banks of the Madison River, he and Ryann get a second chance at love. But not everyone wants to see their happily ever after.