Lucky Streak by Tif Marcelo: For most people they hope that what happens in Vegas stays in Vegas, but for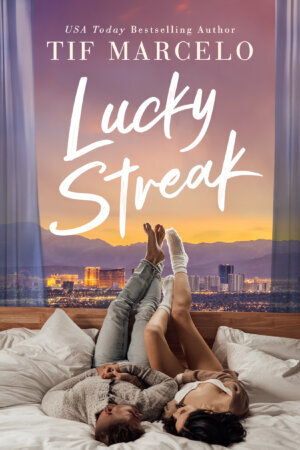 military man Jackson this could not be more far from what he wants! For the first time in a very long time neat and tidy, rule following Jackson wants to get wild and color out of the lines with the the sassy little lady that he meet across the blackjack table. Too bad fate has other plans for these two when things just don't seem to pan out after their steamy night together.
Fast forward five years and things have changed for Jackson, now that he has retired from the military he is living in sunny Nags Head, North Carolina working for his estranged father and stepbrother. Jackson just never expected to learn that his new neighbour is non other than Beatrice, his mystery Vegas lady. Could this could be just the second chance that Jackson has been looking for…
Beatrice is used to following her gut, if there is one thing her mother though her it was to follow the signs and if the vibe feels right then dive right in. Which is how she managed to convinced her brothers that it would be a good idea to invest all of their inheritance into buying a cute beach resort, with the intention of this being a great family investment and really things have been working out great for the Puso siblings that is until Beatrice learns that her steamy Vegas fling who has moved into the bungalow next to her is actually working for their biggest rival! Oh and did I mention that she still hasn't told her brothers about her new wildly successful clothing and home goods business… the question is can Jackson and Beatrice fix this feud between their families while finally find their happily ever after?
I'm always game to read a cute second chance romance and this is exactly what we get when fate throws Jackson and Beatrice back into each others lives in this cute family filled love story. It was pretty easy to get wrapped up in this story right from Beatrice and Jackson's first steamy Vegas meeting, I loved the fact that there was non of that unnecessary drama when they got reunited. Their story was packed with passion and with their easy chemistry it was a breeze to read.
I really liked Beatrice, she was a ball of happy energy. Always willing to help the people that she loved and this made getting to see her find her happiness so sweet. I really liked that she had this deep connection to her mother in their belief that somethings are just a sign and that you should follow your gut. I just loved getting to follow the story from her perspective, not only was she a hoot to read but I found her character very relatable. The dilemma she had about sharing her business with her brothers felt very natural but also a bit extra at times, however I liked the way things resolved. Gosh the Puso siblings were just amazing all together, I just loved getting to see this Filipino family in all their glory.
Oh sweet Jackson. This guy was just a swoon-fest from start to end. There was just something so charming about his character. As much as I loved Jackson I will say that I did feel that his whole mission to reconnect with his father kind of just set him up for more heart break and in a way also hurting his mother. I do wish Jackson stood up for himself more in regard to his relationship with his father but this was just a minor issue. One of the things that I just loved was the bond that Jackson had with his military buddies! These guys just had such a cute silly playful banter that only added to the cute factor in this book!
The chemistry between Jackson and Bea was just perfection. These two were made to be together, which only made me want to slap them and be like don't hide your relationship from your families! I think a lot of the conflict in this book could have been cut out if both Bea and Jackson had been more upfront with their families. I really do wish Bea had bucked up and told her brothers about her online business sooner.
If you are looking for a fast paced second chance romance then this is definitely the book for you!
Book Info:

Publication: September 27th 2022 | Montlake |
I never thought I'd see her again. What happens in Vegas stays in Vegas, right? But five years later, my casino fling is my new next-door neighbor.
A lot's happened since we got acquainted in that hotel room. I finished out my military career, took a job with my estranged father, moved to the beach…the only thing that hasn't changed is that Beatrice has always been on my mind. I can't let her get away again. Lucky for me, she feels the same way.
Not so lucky, though, is our families' business rivalry—and our resorts' competition for the same property.
As much as I want to ride off into the sunset with Beatrice on the back of my bike, we want to make this work. And that means smoothing things out between our families.
If we thought finding each other after our night in Vegas was a long shot, this feud is about to give impossible a whole new meaning.