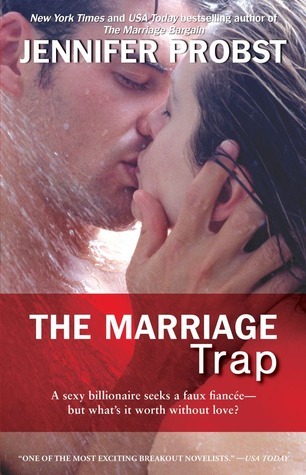 WIFE WANTED…Italian billionaire seeks faux fiancée. Willing to agree to anything in return…
The Marriage Trap by Jennifer Probst is passionately sexy and emotionally compelling. Mia Amore! It sure did surpass my expectations.
I won't reiterate the plot; I think the synopsis does a fine job of that.
I loved the characters in this book, Michael is the kind of guy dreams are made of; Handsome, loyal, family oriented, compassionate a guy with a big heart.
Maggie is my kinda girl; strong, independent, feisty and sassy to the end.
Together Michael and Maggie were dynamite; their chemistry was scorching HOT!
I loved the Conte family dynamics in this book, the strong family ties worked well in moving along the plot.
Jennifer has outdone herself with The Marriage Trap; this book is fun, witty, sexy and an emotionally satisfying read; everything I was expecting it to be and more
I'm a huge fan of the Marriage to a Billionaire series and can't wait to read Carina and Max's story in The Marriage Mistake next, November can't come fast enough for me. Highly Recommended!
My fav. Quote from the book:
"She was exactly what she wanted without apology. He'd never be a prince and didn't want the job. Especially against a woman who'd probably steal his horse and rescue herself. Still, for a while, he needed her."
Rating:
Publisher: Gallery Books (October 2, 2012)
WIFE WANTED…Italianbillionaire seeks faux fiancée. Willing to agree to anything in return…
In order for his sister to marry, Italian billionaire Michael Conte has to find himself a bride – and fast! When he learns that photographer Maggie Ryan is going to be in Milan, Michael hatches a plan to introduce her to his family as his "fiancée." Never mind that Maggie is confident, independent, and a control freak. Never mind that she's everything he doesn't want in a wife… and everything he wants in his bed!
Convinced that Michael is in love with her married gal pal, Maggie agrees to keep up the ruse if he'll keep away from her friend. Besides, she's not attracted to charming, ridiculously hot billionaires who drive her nuts. Once they're in Italy, however, everything changes – and the sexual tension between Maggie and Michael goes from simmer to naked nuclear meltdown!
But have they found the perfect arrangement… or are they trapped in a make-believe marriage?