Today it is my pleasure to Welcome author
Kate Hewitt
to HJ!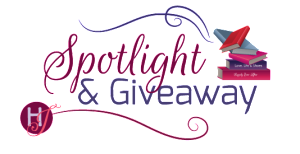 Hi Kate and welcome to HJ! We're so excited to chat with you about your new release, Cupcakes for Christmas!
Please summarize the book for the readers here: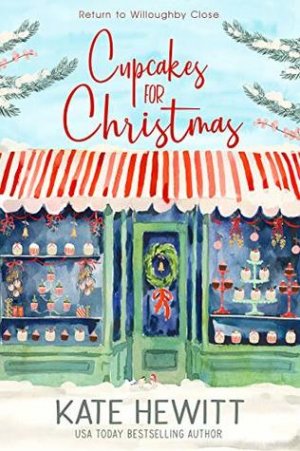 Two old souls dare to dream with each other, over the course of one cozy Christmas!

Please share the opening lines of this book:
"Hey, Olivia!"
Olivia James looked up from her shopping list with a smile for twelve-year-old Mallory Lang as, on a gust of cold air, she breezed into Tea on the Lea, the tea shop Olivia had been running for the last two years.
Mallory shook her long, blonde hair over her shoulders as she collapsed into one of the white wrought-iron chairs at a small, spindly table and shivered dramatically. "It's freezing out there. Mum says it might snow."
Please share a few Fun facts about this book…
This story is a return to Willoughby Close in Wychwood-on-Lea, which is based on a village in the Cotswolds where I used to live. While the heroine offers a cupcake promotion in her teashop, and so the book features lots of amazing cupcakes, I don't actually like cupcakes! I prefer pie. However, it was fun to research all the different flavours!
Please tell us a little about the characters in your book. As you wrote your protagonist was there anything about them that surprised you?
I was glad for the opportunity to have a hero and heroine who are a bit older—both around 40. I was also glad to feature some real issues people struggle with, including dementia and mental health.
If your book was optioned for a movie, what scene would you use for the audition of the main characters and why?
The first scene where Simon and Olivia meet, because the chemistry is instant and they're both so lovable!
The merry jingle of bells on the shop door had Olivia lifting her head, and then quickly standing up as a man came into the shop, ducking his head underneath the stone lintel. He glanced around the empty space, wrought-iron chairs tucked into tables, everything tidied away.
"I'm sorry…are you still open?"
"Yes, absolutely," Olivia said, widening her welcome smile. "Just a bit slow today… It's so cold, I think everyone wants to get home."
"Completely understandable." He loosened the colourful Dr Who-like scarf from around his neck, glancing at the now rather empty glass display cases with an endearingly boyish interest.
He was, Olivia decided, a most interesting-looking man. Tall and lithe, at least six three, she'd say, and a bit gangly and awkward too, in a charming way. When he swung around to look at the display case in front of the counter, his elbow nearly knocked the cake stand but fortunately Olivia whisked it a few inches backwards before he made contact.
He glanced at it, startled, and then gave her a sheepish smile. "Sorry. I'm horribly clumsy. My mother despaired of me. I managed to break six of her Royal Doulton teacups in one go. Plus saucers."
Olivia gave a little laugh. "And how did you manage that?"
"They were all on a tray and I knocked it with my elbow. Naturally. It was a bridge party, all the ladies of the neighbourhood. She was not pleased."
"Oh, dear." Olivia found she couldn't quite look away from his glinting, grey-green eyes and wide, infectious smile. He had a dimple in one lean cheek, she noticed, which made him look boyish, although the streaks of grey in his dark, unruly hair, as well as the deepening crow's feet by his eyes suggested someone close to her age of nearly forty.
"Anyway." He glanced up from the display case, eyebrows raised. "What do you recommend?"
What do you want people to take away from reading this book?
That fairy tales and happy endings are for everyone.
What are you currently working on? What other releases do you have planned?
I'm currently working on a new women's fiction called Not My Daughter, which deals with issues of fertility and adoption. After that I'm going to be finishing my Holley Sisters series with Miriam's story, and then writing three new Willoughby Close books!

Thanks for blogging at HJ!
Giveaway:

Tule tote, print copy of Cupcakes for Christmas and Tule swag
To enter Giveaway: Please complete the Rafflecopter form and Post a comment to this Q:

What is your favorite part of celebrating Christmas?
Excerpt from Cupcakes for Christmas:
His face lit up, making her laugh at the exuberance of his expression. "One cupcake left? How perfectly serendipitous. What flavour is it?"

"Cookies and cream." She fetched the cupcake from the plate behind her; she hadn't put it back after wrapping up the others for Mallory.

"Now that is a work of art." The man studied the cupcake as if it were the edible version of Michelangelo's David. "Are those pieces of Oreo?"

"They are."

"Amazing."

She smiled, gratified by his compliment, because it sounded so sincere. He seemed like one of those rare people who was truly fascinated by life, always stopping to study or stare, marvelling at the mechanics of something simple. It was a gift, to look at life like that, and one Olivia didn't think she had, although she was happy enough.

"So," she said after a few seconds when the man was simply staring at the cupcake, marvelling. "Are you, ah, going to buy it?"

"Buy it?" His eyebrows rose once more, with comical drama. "Of course I'm going to buy it! How much?"

"Two pounds fifty."

"You are grossly undercharging, then. Cupcakes the size of a small rodent go for nearly five pounds in London."

"What an unappealing comparison," Olivia returned with another laugh. "And this isn't London, it's the Cotswolds."

"So you should really be charging six pounds."

She laughed again, properly, and he grinned in return, and right then something in Olivia stirred to life, something that had been so dead and buried she'd forgotten it had even existed. But that tiny winkle of interest and yearning felt a bit like the poke of an electric cattle prod. Whoa. I'm alive. Here is a man.

And a man unlike any other she'd seen in Wychwood-on-Lea, which usually ran to golf-playing retirees and self-important City types, whose wives had dragged them out to experience so-called country living.

"Still, it's two pounds fifty," she said firmly. "I'm having a hard enough time selling them as it is."

"Are you? But you've only one left."

"I gave five away just now, and another one this morning." When Ellie had come in for a coffee and a chat. She grimaced good-naturedly as she confessed, "And I ate one myself."

"Which means you sold…?"

"Four."

"Think of the profit you could have made! Two pounds fifty extra per cupcake… That's…"

He frowned, and she supplied with a smile, "Ten pounds."

"Which is not to be sneezed at."

"No."

They smiled at each other, rather foolishly, or at least Olivia felt foolish. The banter had been witty and fun, but now that they had fallen silent, the man looked suddenly earnest and serious and she…she didn't know how she looked. Or felt.

"It must be hard running a tea shop in a village this size. Do you have much help?"

"No, it's just me." Which, for some ridiculous reason, nearly brought a wretched lump to her throat. How bizarre. "But it's fine," she said quickly. "It's all fine. You're right, though, Wychwood-on-Lea is a small place. Not as much foot traffic as I'd like, but I try to make up for it in other ways. Still, it's all good."

The man nodded slowly, in a way that made Olivia think he didn't believe her, which was exasperating because she was telling the truth. It was all good. Definitely.

"So the cupcake. Would you like it in a box?"

"You have boxes?" He sounded delighted, making Olivia smile again, and she went to fetch one of her many boxes.

"Tea on the Lea," he read off the front with satisfaction. "Very clever."

"Well, at least it rhymes. But I didn't come up with it. My mother did."

"Your mother?"

"It was her shop originally, but I took it over six months ago."

"So has this shop been in your family for ages? Should there be a sign over the door, 'Established in 1854' or something? 'Purveyors of Tea to the Queen'?"

She laughed and shook her head. "Sadly we have not supplied the Queen with anything. And my mum started the shop ten years ago, after she retired. It was always a dream of hers, to own a little shop like this."

"Kudos to her for following her dreams."

"Yes, exactly."

"And is it your dream as well?"

Goodness, this was getting rather personal. "It's become my dream," Olivia said firmly. "I love baking, and I'm happy here." Which, for some reason, made it sound as if she wasn't. As if she had to convince herself, which she didn't. "Anyway." Olivia took a length of silver ribbon she usually saved for her wedding cake orders and wrapped it around the box, tying it with an elegant bow. "There you are. That will be two pounds fifty."

"Why don't you charge me five pounds?" the man suggested as he handed over his debit card. "Really, I insist. It's practically a crime otherwise."

"Two pounds fifty," Olivia repeated firmly. "But if you come back again, I might have upped the prices by then."

"I certainly hope so. Do you make cupcakes every day?"

Olivia thought of Mallory's idea. "Actually, I'm running a promotion," she said a bit recklessly. "The Twelve Days of Cupcakes. A different flavour of cupcake every day in the run-up to Christmas…and if you buy one on each of the twelve days, you get a free one at the end. But you have to come every day." For some reason her heart had started beating fast as she said all this. She gazed at him, eyebrows raised. "What do you think?"

"That's an absolutely cracking idea. Simply cracking." He grinned. "Count me in."

Olivia's heart flipped over. She was being ridiculous, of course. She didn't even know this man and he was, it had to be said, a tiny bit on the eccentric side, with his enthusiastic manner, his endless scarf. But still. There went her heart. She reached for the card reader, unable to keep from glancing at the name on the debit card as she pushed it into the reader. Simon Blacklock. What a perfectly appropriate name—like something she'd read in an Austen or Brontë novel. Very Wuthering Heights-ish.

In some ways Simon Blacklock seemed like someone from another century, with his friendly, open face, his interest in everything, even his battered tweed jacket and winding scarf. He was decidedly old-fashioned, and Olivia liked that about him.

"Put your PIN in please," she said, and pushed the reader towards him, averting her eyes while he pressed the numbers on the keypad.

He pushed it back towards her with a smile, and Olivia gave him his card back. She had a strange, almost panicky sense not to let him simply walk out the door, out of her life.

"Enjoy your cupcake," she blurted a little too fast. "And see you…again?" She cringed a little inwardly at how hopeful and eager she sounded.

"Yes, definitely." He hoisted the box. "I can't wait to try out some more flavours." And with one last whimsical smile, he was gone, the bells jingling as he shut the door behind him.
Excerpt. © Reprinted by permission. All rights reserved.


Book Info:
Olivia James has always been happy running a tea shop and bakery in the Cotswold village of Wychwood-on-Lea, and helping her friends find their happily-ever-afters, topped by the perfect wedding cake. But as Christmas approaches, Olivia is home alone and questioning her choices while eating too many of her own specialty confections.
When Simon Blacklock, a handsome, whimsical stranger, breezes into her shop and buys a cupcake and then returns the next day and the day after, Olivia begins to dream. Can romance blossom amidst the sugar and flour? And after a lifetime of living on the side lines, is she brave enough to star in her own story?
Simon may be hiding a painful secret, but Olivia harbors secrets of her own. If they can dare to risk their hearts, this Christmas might be the most magical yet!
Book Links: Amazon | B&N | iTunes | Kobo | Google |


Meet the Author: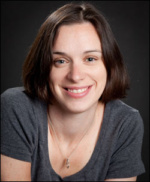 Kate Hewitt wrote her first story at the age of five, simply because her older brother had written one and she thought she could do it too. That story was one sentence long—fortunately, they have become a bit more detailed as she's grown older.
She studied drama in college and shortly after graduation moved to New York City to pursue a career in theatre. This was derailed by something far better—meeting the man of her dreams who happened also to be her older brother's childhood friend.
Ten days after their wedding they moved to England, where Kate worked a variety of different jobs—drama teacher, editorial assistant, church youth worker, secretary, and finally mother.
When her oldest daughter was one year old, she sold her first short story to a British magazine, The People's Friend. Since then she has written many stories and serials as well as novels. In 2007 she received 'The Call' from Mills & Boon for her first Harlequin Presents novel, The Italian's Chosen Wife. Since then she has written over 25 books for Harlequin, and also writes women's fiction for Carina UK and Lion Hudson Press. She loves writing stories that both tackle tough issues and celebrate the redeeming power of love.
Besides writing, she enjoys reading, traveling, and learning to knit—it's an ongoing process and she's made a lot of scarves.
Kate lives in a tiny village on the northwest coast of England with her husband, five young children, and an overly affectionate Golden Retriever.
Website | Facebook | Twitter | Instagram | GoodReads |