Today, HJ is pleased to share with you

Piper Rayne's

new release: 

Sexy Filthy Boss

He's the sexy alpha male in the corner office who goes through assistants faster than free donuts in the breakroom.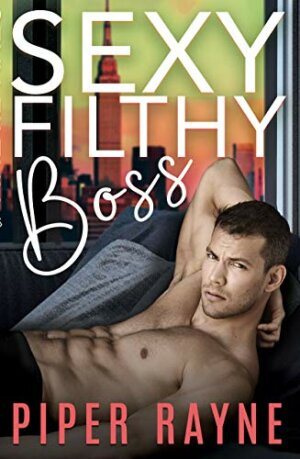 I'm the assistant who was chosen to cover for his last fire.

The owner of the company is clear—hook the biggest client in our firm's history and there's a partnership for him and a promotion for me. Stipulation—we do it together.

It doesn't take a tarot card-reading psychic to figure out where our story is headed… late nights, trips out of town, and more than a few awkward moments filled with sexual tension.

No worries though. I pride myself on my willpower. I can totally ignore his sexy grin, his rock-hard body and his dreamy brown eyes. I will not become the woman other women hate.

But it turns out that Enzo Mancini has a lot of layers and if I don't stop peeling, I'm going to lose everything, including my dignity.
Enjoy an exclusive excerpt from Sexy Filthy Boss 
A knock sounds on my glass door.
"Gotta go." I click off on the phone and wave in the temp.
"Here you go, Mr. Mancini. What else did you need?" She pulls out her pad and pen. "I don't know where Denise was with everything."
"Denise?"
Her jaw tenses but loosens immediately. Doesn't matter, I've already read her body language. "Your previous assistant."
"Oh yeah. My assumption is that her notes are on her desk, but I'm fairly sure she's done nothing." I stare at the screen in front of me. The words are perfect, and this presentation is the best I've done on something family related. How I got chosen for an ad campaign geared toward families who buy diapers, I haven't a clue, but if I can sign this client, I'm a shoo-in for partner.
"I'll go check and I, um…" She straightens her back. False bravado. "I have to leave at four." She swivels on her heels to leave.
"Nope. I need you in the room to take notes for me."
Her fake smile falters, and a look I'm used to getting from my assistants transforms her face. No longer are those cheeks slightly pink with a flush. Her eyes are shooting red and her muscles tense. "I am doing this as a favor. I had planned to have the afternoon off since Mr. Beardsman is off too. I'm helping because you're in a bind. I don't sit in on Mr. Beardsman's meetings, so I don't see why I would sit in on yours."
If I didn't love Teddy, I'd tell his assistant she doesn't sit in because he keeps her at arm's length on purpose. I may not hold my assistant's hand through preparation of my presentations, or even allow any input from them, but they've all sat through pitches. They've seen the good, the bad—hell, one of them saw me practically beg once at the beginning of my career.
I sit up straighter. "I'm curious, Miss…?"
"Stewart. Annie Stewart." Her jaw tics.
"Miss Stewart, other than having dance parties in the break room, I assume you must value your job. My other assumption is you're not interested in being an assistant forever, otherwise you would have told Shelby to shove it and hopped on that elevator, to hell with the consequences."
Her eyes fixate on my steepled fingers.
"Watching me pitch to what could be our biggest client is a huge opportunity for your career. You're willing to let that go for some primping before your Friday night date?"
Her chest rises and falls, her gaze meeting mine. "Of course, you're right. I'd be happy to sit in on the pitch."
"Would you like to have dinner after?" I ask.
She huffs and turns around to leave.
I chuckle. "A celebratory dinner with the clients, of course."
She turns back to face me and swallows. I'm unsure why I'm enjoying this. I shouldn't. She's right, she did me a favor by sticking around. Although since she's Teddy's assistant, I don't hold out hope she's worth much as far as talent. I'll probably be leading her the entire way this afternoon.
"That would be great. Thank you, Mr. Mancini."
"Enzo."
Her eyes widen a fraction of an inch, but I catch it.
"Call me Enzo."
"Then feel free to call me Annie, not Erin."
"We're not equals here, Miss Stewart. Better to remember that."
She blinks but doesn't say anything, leaving my office while probably wishing she could slam the door.
Once again, rather than annoying, I find her amusing for some reason.
Excerpt. ©Piper Rayne. Posted by arrangement with the publisher. All rights reserved.


Giveaway:

(3) Winner's choice of 1 Piper Rayne backlist eBook
To enter Giveaway: Please complete the Rafflecopter form and post a comment to this Q:

What did you think of the excerpt spotlighted here? Leave a comment with your thoughts on the book…
Meet the Author:
Piper Rayne, or Piper and Rayne, whichever you prefer because we're not one author, we're two. Yep, you get two USA Today Bestselling authors for the price of one. Our goal is to bring you romance stories that have "Heartwarming Humor With a Side of Sizzle" (okay…you caught us, that's our tagline). A little about us… We both have kindle's full of one-clickable books. We're both married to husbands who drive us to drink. We're both chauffeurs to our kids. Most of all, we love hot heroes and quirky heroines that make us laugh, and we hope you do, too. Goodreads | Facebook | Instagram | Pinterest  | Bookbub | Website

Buy:
Amazon US ~ https://amzn.to/2TGTUcw
Amazon UK ~ https://amzn.to/2Y36PnV
Amazon CA ~ https://amzn.to/2Ta4lQK
Amazon AU ~ https://amzn.to/2W16L5Z
Apple Books ~ https://apple.co/2UeGIaG
B & N ~ https://bit.ly/2zttRt4
Kobo ~ https://bit.ly/2Sg1Lc4
Google Play ~ http://bit.ly/2P6WwZW
Goodreads ~ https://bit.ly/2FLMYV9