Today it is my pleasure to Welcome author
Susanna Allen
to HJ!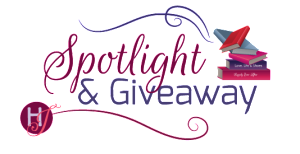 Hi Susanna and welcome to HJ! We're so excited to chat with you about your new release, A Wolf in Duke's Clothing!
Please summarize the book for the readers here: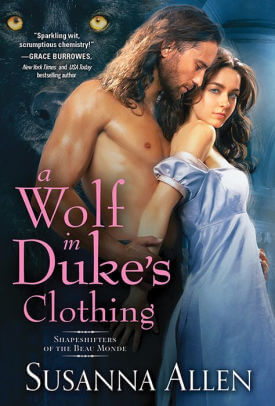 Alfred Blakesley is the Duke of Lowell and a versipellis — a wolf Shapeshifter. He is the Alpha of his pack which is comprised of more than wolves: any species in need of the protection of one as strong as he, is welcome at Lowell Hall.
Alfred is on the hunt for his vera amoris, his true love. Due to a transgression on the part of his parents, his pack will not be fruitful nor multiply if he does not find his fated mate. After five long years searching all over the globe, he finds her in a ton ballroom. She is not a versipellis, however, but a human lady.
The Honorable Miss Felicity Templeton wants nothing more than to reach her twenty-fifth birthday unwed. She has plans for the legacy she is about to inherit, and is ready to embark upon life as an independent spinster, and shockingly, a horse breeder. She is not popular amongst the eligible swains, and she couldn't be happier about it—but is she? Having been raised by her beloved mother to be both an accomplished equestrienne and the mistress of her own home, Felicity is embracing one dream at the expense of another, but what if she could have it all?

Please share your favorite quote from the book
Most of my favorite quotes are spoilers! But I love this exchange, from Felicity's first night in Lowell Hall. At this stage, she has no idea that she is surrounded by Shapeshifters. The ranking members of the household have gathered in a drawing room before dinner, and Felicity is asking after a letter she insisted be sent to London straight away.
"Mary Mossett offered to deliver my letter into your hands."
"It has been sent directly," said the duke.
"On a night like this? With no moon to light the way?"
Those devastating crinkles appeared at the corners of His Grace's eyes. "My messenger has excellent eyesight."
"Is he a bat?" Felicity asked, incredulous.
"No, we've none of those at present." The duke appeared amused, again, about something she could not comprehend. "Although who knows what the future might bring."
Please share a few Fun facts about this book…
I have a fondness for collective nouns: a pride of lions, a murder of crows, a pack of wolves… Writing A Wolf in Duke's Clothing, as well as the rest of The Shapeshifters of the Beau Monde series, has given me the opportunity to indulge in the use of them without reservation and to investigate more. My new favorite is a grist of wasps, and I hope to find use for a gaze of raccoons. Alas, the only amphibians that are found in England are toads, frogs and newts, so I'll leave a congress of salamanders until I go further afield.
Like my heroine, I am a horsewoman (what a coincidence) and the lead mare of Felicity's band is modeled after the second horse I ever rode. Having taken up the hobby in adulthood, I was lucky to have begun under excellent instruction, with horses full of personality. Delilah was the alpha mare of the riding school horses and it was so, so much fun to make her a character in this book. I can assure you I am not exaggerating her nature: there's nothing like a stroppy mare to keep everyone on their toes.
The idea for this book started with its title, which is not always the case for me, and which came to me out of nowhere. I was sitting on the sofa, wondering if I was going to write another work of fiction or not (I was finishing a non-fiction book about, wait for it, horses) and the title, like, dropped down from the ether or something. I actually started banging my head against the cushion: I really wasn't sure if I wanted to commit the time and energy to another novel, much less one outside my usual genre of contemporary romance… but every time I thought of that title I knew I had to do it, and here we are!
If your book was optioned for a movie, what scene would you use for the audition of the main characters and why?
"Your Grace." Felicity took a breath and lifted her chin. "I would like to be apprised of the situation concerning my uncle and the will."
Blast. Alfred should have known, of course. "I have nothing to report on that matter, at this time."
"I find that impossible to believe."
"Believe we are doing all in our power to address the situation."
"I am asking what that situation is. Mr. Bates did not appear to be secure in his facts. Is there, or is there not, a Will that is the true testament to the wishes of my father?"
"All is yet to be revealed."
Felicity regarded him for a long, silent moment, and for the first time since he was a very, very young pup, he squirmed under the gaze of another.
"I do not find these answers satisfactory." She set the book down as though to stop herself throwing it at his head.
"There is much we do not know—"
"There is far more I do not know. I do not know how Mr. Bates had the inkling to begin his quest. Unless you or he read my post?"
"I ordered him to investigate the address. We did not read your post."
She nodded, all condescension. "A mark in your favor."
"I am relieved." Alfred could not help the bite of sarcasm.
"As you should be, Your Grace. Unless you desire a wife who will bow down to your every dictate, meek and mild." Felicity lofted her chin, as she was wont to do. "I fear I may have given you the impression I will be such a wife. I will not. You may like to reconsider your proposal."
"I will never reconsider my proposal."
"I insist you explain why."
"I cannot, at this juncture."
"How is it that you have focused on me with such insistence? Can you tell me what it is about me that enraptures you so?"
"I will, I swear this to you, on my life and soul, when the time is right."
"When will the time be right?"
"Soon."
What do you want people to take away from reading this book?
I really want readers to enjoy the world-building and the combination of the manners of the Regency Era with the sensuality of the Shifter genre; to have fun figuring out what sorts of animals the Shapeshifters become; to enjoy experiencing Alfred learning to compromise, and Felicity learning to trust — and most of all, to enjoy their attainment of a hard-won happily ever after.
What are you currently working on? What other releases do you have planned?
If you could have given your characters one piece of advice before the opening pages of the book, what – would it be and why?
I would tell Alfred to listen to his Beta, or Second in command, Matthias Bates, and brush up on his courtship skills — they leave a lot to be desired!

Thanks for blogging at HJ!
Giveaway:

A paperback copy of A Wolf in Duke's Clothing by Susanna Allen
To enter Giveaway: Please complete the Rafflecopter form and Post a comment to this Q:

Have you ever imagined yourself living in the Regency era, and what do you think your life would be like? Or, to take into account the other narrative element: if you were a Shapeshifter, what animal would you be?
Excerpt from A Wolf in Duke's Clothing:
Following her first meal in Lowell Hall, Felicity and the duke retire to the drawing room for tea. Felicity refuses to marry Alfred, claiming their extremely short acquaintance — they know nothing of one another. The duke calls her bluff and encourages her to talk about herself.
"I sketch," she allowed. "I am fond of drawing animals."
"Animals?" He pretended to scoff. "A lowly subject."
"I disagree. I find there is nothing nobler than the beasts of the field, the birds of the air. I admire their freedom to be themselves, despite many species having been domesticated by humans. I commend the way they take care of one another in their groups or herds." She peeped at him, hesitant. "I speak of horses, in the main."
"There is little that is natural regarding man's treatment of the horse."
"I do not disagree. Man owes civilization to horses and often repays them with mistreatment. I believe we can show true gratitude to the horse with conscientious husbandry. I believe our diligence in this matter will make the whole world a better place."
"A bleeding heart." He was baiting her, of course, and her defense of creatures both great and small thrilled him to the core.
"A beating heart, a heart that acknowledges the dignity of all sentient beings." Her hazel eyes glowed like topaz with her passion.
"Had they any will of their own, they would not allow themselves to become subjugated by us."
"I do not deny that there are many who would seek to subjugate so-called inferior creatures," Felicity allowed, "but those who are sensitive will garner only the best from the animals in their care. If only we would learn from them."
"A radical, bleeding heart."
"Better a radical than one who stands by and does nothing. Better a bleeding heart than one that has turned to stone." Miss Templeton scowled at him. "I know your kind, looking down on all around you, full of your position in life that was nothing more than an accident of breeding. Little separates you from the animals, Your Grace."
"Oh, very little indeed," he agreed, struggling to keep his composure. "But come, such a fuss over mere animals."
"Mere animals?" She very nearly shrieked.
He went to meet her fury. "For why would we, who have speech and independence, care for beasts of burden or common house pets?"
"If it is speech that elevates us, only recall the numberless times that words have caused ill. Only think what is being said about me at this precise moment and tell me that language is something to be proud of." Miss Templeton forgot herself so far as to fist her hands on her hips. "And as for free will? Those such as you, Your Grace," she spat, imbuing a world of spite in his title, "those in the upper echelons of society may consider free will their birthright, but the majority do not have that luxury. Why must one species be found superior to the other? Why can we not live in harmony? Why must our own baser instincts cause our animals to be abused? How simple it would be to change our behavior, to make a difference."
"It is all well and good my dear, but one woman? Make a difference? In the larger world?" By the Goddess, whatever she wanted, he would ensure she achieved it.
"Yes, one woman. One woman, who has the knowledge and the will. Knowledge and will are not the sole provinces of men."
"And what do you speak of, then?" he challenged. "Training house cats? Bringing dogs indoors?"
"Well," she hesitated. "Just for the sake of argument, mind. Horse breeding."
"A gentleman's time-honored pursuit—"
"A pursuit that has resulted in inbred mounts that, more often than not, do not live up to expectation and must be destroyed. Or result in unreliable beasts that end up hurting their riders or themselves." Miss Templeton stood near enough to him to bite him on the chin. "All it would take is the cross of stock in such a way that would guarantee the best of both will out."
"But madam, how then would our equine friends acquire their mates?" Alfred inquired. "Do the studs apply to the fathers of the mares for the hands, or rather the hooves, of their intended?" He snuck a breath, inhaling her dudgeon, her ardency, her ferocity, and his wolf was like to howling at the full moon.
"Do not be ridiculous."
"Or do they see, and scent, and take?" He leaned in, all but whispering in her ear. "Do they follow instincts unknown to anyone but the stallion and mare involved? Is it the stallion's pursuit that inspires the mare or the mare's willingness to be covered that inflames the stallion?"
"You seek to discompose me." She blushed but held his gaze. "You are mocking my beliefs. You are mocking me." She turned to leave, and he stopped her with a hand on the slice of bare arm below her puffed sleeve and above her glove. "You mock me by keeping me here, as if the whole world would believe that you wanted me above all others. I will find a way to leave here and put this sham behind me."
He gripped her arm. "You will not leave me." The dominatum rushed through him and once again had no effect on her whatsoever. "We will marry, and not only because it is what society will demand."
"You may force me to the altar." Miss Templeton stuck out her chin in defiance. "But you cannot make me respond to the vows."
"What might you respond to?" He leaned in and ran his nose down her cheek, around her jaw. "This?" She shivered. "Ah, I do know something about you, after all—that a stroke on the cheek makes you tremble." He breathed in her scent and breathed out, gently, against her neck. "I was merely playing devil's advocate," he crooned as he let his lips touch her earlobe. "It was not my intention to mock you. I find your passion quite…stimulating." He felt her quiver, said, "Do pardon me," and kissed her.
Excerpt. © Reprinted by permission. All rights reserved.

Book Info:
A Duke in want of a wife…
Alfred Blakesley, Duke of Lowell, has long been an enigma. No one dares to give a man of his status the cut direct, but there's simply something not quite right about him. What would the society ladies say if they learned the truth—that the Duke of Lowell is a wolf shifter and the leader of a pack facing extinction if he doesn't find his true love? So now he's on the hunt…for a wife.
Felicity Templeton has a goal of her own: to remain unwed until her twenty-fifth birthday, when she will inherit a significant fortune. But that all changes when she meets Alfred, the dashing duke who's determined to have her for his very own…
Book Links: Amazon | B&N | iTunes | Kobo | Google |


Meet the Author:
Born in New Jersey, Susanna Allen moved to Ireland for twelve months — in 1998. Susan is living her life by the three Rs: reading, writing, and horseback riding, and can generally be found on her sofa with her e-reader; gazing out a window and thinking about made-up people; or cantering around in circles. She loves every minute of it!
Website | Facebook | Twitter | Instagram | GoodReads |