The Seat Filler by Sariah Wilson: The things we do for our friends, this is exactly what Juliet is thinking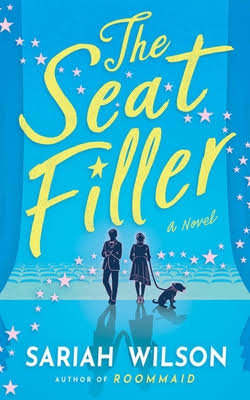 as she takes her place in row 2 seat B at one if the biggest award shows of the year. What was supposed to just be a favor for her best friend soon turns into dog groomer Juliet running into her childhood crush; movie star heartthrob Noah Douglas! However both star stunned and slightly put of by his snobbish attitude Juliet fakes that she has no idea who movie star Noah actually is, thinking this will be the only time that she will ever see him Juliet decides to take Noah down a peg or two, however this only increases Noah's interest in her. Soon Juliet finds herself staring down the very set of lips that start her entire philemaphobia only this time they want to help her get over her strange phobia in the most passionate way possible.
"You are one dirty boy," I told him.
"I am," Noah agreed as he brushed some soil off his pants.
My cheeks flushed and I said, "I was talking to your dog."
"I know." Then he winked at me
Noah is used to people always wanting something from him so when he finally meets a cute girl that isn't bothered by his celebrity and that loves his dog just as much as he does, he doesn't think twice about pursuing something more with her, the only problem being Juliet is not interested in the least bit. Not being one to give up Noah decides to work his way up from the friends zone. With their insanely hot chemistry it is a no brainer for Noah to offer to help Juliet face her fear of kissing, after all which guy wouldn't want to kiss the girl he is crazy over? Somewhere between their slow kisses and deep heart to hearts some very real feelings begin to form but what will happen when Juliet finally comes clean about knowing who Noah has been along? Will these two be able to get their own perfect movie ending or will one small lie come between their happily ever after?
"I liked that he wasn't this stereotypical macho movie star but had these quirky and nerdy sides that he let me see."
The Seat Filler was an absolute delight to read! I loved every single second of this cute Cinderella style romance. This was one of the most swoony, sweet cute Hollywood romance that I have read to date, Wilson is fast becoming a favorite romance author mine!
"I was missing you before I ever even met you. We click. You get me. You're my person and I want you in my life."
I absolutely adored Juliet and that she was not your stereotypical female lead in that she was more than happy to get messy with the pups than get all dolled up. I really liked that Wilson created such a relatable female lead that had very real insecurities and fears. I loved the cute little relationship that she created with sassy Glady and that in a way she helped Juliet fight for Noah.
"This chocolate thing works. Like in Harry Potter."
"I hope I kiss better than a dementor." OMG. He spoke nerd. If I didn't know what the end result would be, I might actually consider kissing him again.
Noah has to be one of my all time favorite male leads, not only was he down to earth but he was such a sweetheart. I loved that he didn't rush Juliet and went at her pace. Also how cute was all that research that he did to help make the entire kissing experiment go more smoothly! I absolutely loved that Noah did everything that he could to help make Juliet happy even if that meant having to do things that made him uncomfortable.
"You're my kryptonite. So is how much I care about what you've gone through, how important it was to me to help you, how much I love you."
Overall The Seat Filler was one of the cutest, swooniest most heart-warming romance that I have had the pleasure of reading. This is definitely a book I would recommend to all romance lovers!

QOTD: If you could be a seat filler which celeb would you want to sit next to?

Book Info:

Publication: April 27th 2021 | Montlake |
The movie star and the dog groomer are one kiss away from the perfect love story. That's the hiccup in a warm and witty romance by the bestselling author of Roommaid.
The meet-cute award goes to dog groomer Juliet Nolan. It's one of Hollywood's biggest nights when she volunteers as a seat filler and winds up next to movie heartthrob Noah freaking Douglas. Tongue tied and toes curling in her pink Converse, she pretends that she doesn't have a clue who he is. It's the only way to keep from swooning.
She's pretty and unpretentious, loves his dog, and is not a worshipping fan. No way Noah's giving up on her, even if his affectionate pursuit comes with a bump: Juliet has a pathological fear of kissing and the disappointments that follow. What odds does romance have without that momentous, stupendous, once-in-a-lifetime first smooch? Patient, empathetic, and carrying personal burdens of his own, Noah suggests a remedy: they rehearse.
The lessons begin. The guards come down. But there's another hitch they weren't betting on. As for that cue-the-orchestra-and-roll-credits happy ending? It might take more than practice to make it perfect.