Faking It to Making It by Ally Blake: When I read "The Secret Wedding Dress", I had no idea that enigmatic Nate Mackenzie would be getting his own book. What a happy surprise though! As Nate taunted Gabe through his relationship with Paige, he gets his karmic payback in this book.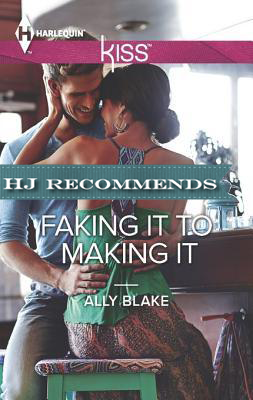 Nate doesn't think dating sites work for true romance, but that's the last thing he wants. Probably one of very few men being completely honest, he spells things out – he wants a date for a wedding, and nothing more. Okay, maybe a *little* more. Some fake dating to put on a show for his all-female family so he can stop them from trying to marry him off.
Saskia Bloom designs infographics, which means she's all about statistics and numbers. She's hired to do research into a dating site for a project and thinks that getting to know one of the site's members might help determine what people are looking for – theoretically. She finds that overabundantly, the profiles aren't truthful enough to get meaningful data, but when she sees Nate's bio, she thinks she may have found her subject. Now here's hoping that the man and the picture are even close to being similar – that'd be the whole package.
To Saskia's delight (and at the same time, dismay), Nate's arrestingly handsome picture might have been an under-sell. Nate is pleasantly surprised by Saskia's frankness, but a little disconcerted when he realizes she can read him better than any woman he's ever dated for real. Saskia wants to get her research done, but trying to get Nate to open up even a little is like pulling teeth.
Once the floodgates are open, they become friends – and then a bit more. Their lie is starting to seem like truth and it scares them both. It doesn't help that Gabe & Paige love Saskia and think she's perfect for Nate – despite his assertions that their relationship is just for show. And Saskia, even in her untraditionally boho-chic clothes and open nature seems to fit right into his circle of friends and more importantly – his family.
For Nate, words are his weapon of choice – but he finds himself able only to give of himself through gestures. Whereas Saskia learns that words can be just as powerful – and just as deadly. The true question is whether they can both break through their comfort zone to be vulnerable when neither of them know how far the other one is willing to go?
I loved this book. In fact, both of these stories ("The Secret Wedding Dress" and this one) are fantastic! I loved seeing the difference in the protagonists from book to book – and all of the characters were fun and vivid. Another HQ KISS I highly recommend.
Book Info:

Published August 1st 2013 by Harlequin KISS (Book 26)
A dilemma, a deal…a date!
Charmer Nate Mackenzie is in the middle of a plus-one dilemma for his friend's wedding. Any of his recent dates would start dreaming of a solitaire for their own left hand. Worse, going stag will leave him at the mercy of a setup by his ever-hopeful sisters.
Discovering that Saskia Bloom is doing online-dating research for a website, he strikes a deal. She'll take the research rather than a relationship and he'll get a fake date. There might be no shortage of sexual attraction between them–but as complete opposites, will they be at all convincing as a "happy couple"?