Sinner's Steel by Sarah Castille: Best friend's since they were young, Zane and Evie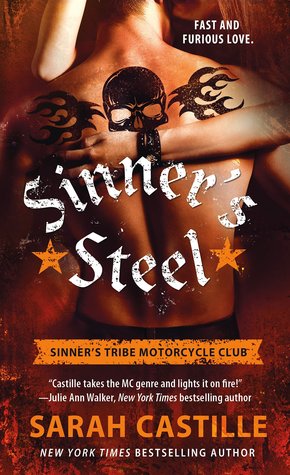 admitted their love for one another nine years ago on their first and last night together. Now, Evie has fixed her broken heart from Zane's disappearance, and Zane has only gotten colder as Vice President of his branch of Sinner's MC.
But when Evie becomes involved with the president of a rival gang, Zane sees her for the first time in years, and meets his son for the first time. Zane refuses to let go this time now that circumstances are under his control. And he especially won't let her or his son near the other president, a violent man with an intense desire for Evie.
"We're not done, Evie. I don't expect you to forgive me for leaving the way I did, and maybe one day I will understand why you didn't wait, but I will never be done with you."
If Evie could find out the truth of that night, and understand the man Zane has become, then just maybe she can create the family she always wanted with the man she loves.
While definitely a hard and violent world, I enjoyed Sinner's Steel. Oftentimes I feel the heroine is a bit too hysterical in these circumstances, but I felt Evie was strong. A true, "old lady" as they call it, even if she did waffle a bit too much at times.
And Zane. I loved Zane. I loved his love for Evie. And I loved his awkwardness and love for his son. He's got a cold shell, and only with Evie is this hard man passionate and willing to open up.
It's definitely a long road for them to be together again and to trust one another, but I liked it. A big part because the author kept them interacting, but also because they needed to rebuild trust and knowledge in and about one another. It felt real. And, along with the community of bikers, I loved reading about them and their journeys.
Although violent, Sinner's Steel definitely wasn't as bad or hardcore as others I've read. So unless you're not interested in any violence, I would recommend Sinner's Steel for any MC romance lover. It's passionate, adorable, and sweet between Zane and Evie. There are two others in the series, but it doesn't interfere with this story. Although, I'd recommend reading them if you read Sinner's Steel. I know I am!
Book Info:

Publication: October 6, 2015 | St. Martin's Paperbacks | Sinner's Tribe Motorcycle Club #3
HE'S HELL ON WHEELS.
Tall, dark, and dangerously handsome, Zane "Tracker" Colter is the strong, silent type of tattooed muscle biker who drives women wild. But as a master of strategy for the outlaw MC club, Sinner's Tribe, he doesn't have time to play around with groupies and biker chicks-especially when he can't stop thinking about Evie, the girl who got away…
SHE'S PLAYING WITH FIRE.
Evie's been in love with Zane ever since they were children-until he broke her heart and disappeared. Now he's back in her life, bigger and badder than ever. Zane is stunned by how beautiful and confident Evie's become, using her artistic talent to customize motorcycles. He wants her so bad, he'd ride through fire to win her back. There's one problem: Evie is dating his deadliest rival-the leader of the Black Jacks-and if Evie and Zane hook up, there'll be hell to pay…