A Cinderella for the Prince's Revenge is a June '22 new release which is full of exciting adventure and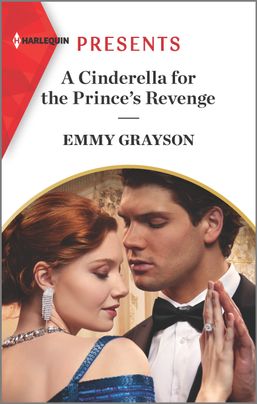 emotional intensity that I really enjoy from Emmy Grayson.
Bartender Briony is shook when the most attractive man in the world offers his hand in marriage in a world far away with a family she knows nothing of. Hoping he's done his best to convince Briony who she is and her rightful place in his world, Cass is relieved when she walks around the corner to meet the plane. Leaving the dysfunctional family who treat her like dirt is silent satisfaction for Briony, although walking into the unknown isn't lost on her. Raising a toast to new adventures and the unknow sparks the blazing adventures ahead.
Capturing regal life and monumental luxury, Emmy Grayson, writes a beautiful about the most funny and delightful Princess who is paired against the most beautifully strong and handsome Prince. Swirling in the background is truly awful families which add to the fairy-tale. Attraction is instant but is Briony ready to enter the loveless marriage Cass is offering? Cass's slow burn revenge is his sole driver. Any appeal to Briony is more an inconvenient aversion to his main goal. The transformation from Cinderella to Princess is most enjoyable.
As a regular reader of Harlequin Presents, I'm compelled to suggest Harlequin take stock of how many titles in the last 12 months that they've included "Cinderella" … but unlike most stories of poor girl turned rich; A Cinderella for the Prince's Revenge really does do a fantastic job creating a Cinderella in Briony and a Cinderella-like world.
I really enjoyed Emmy Grayson's latest release and I'm very much looking forward to Briony's brother's story.
Book Info:

Publication: June 2022 | Harlequin Presents | The Van Ambrose Royals #1
Small-town bartender Briony Smith's exhilarating flirtation with customer Cass is a welcome distraction from her very ordinary existence. She's speechless when Cass reveals he's a prince and she's a long-lost princess!
She's even more shocked by his convenient proposal! Marrying Cass will allow her to be part of the family she's never known. And their powerful attraction can only sweeten the deal. But will it still feel like a fairy tale after Cass's admission that making her his bride is part of his plan for revenge?