A Vow to Set the Virgin Free by Millie Adams: Athena, goddess of war, certainly lived up to her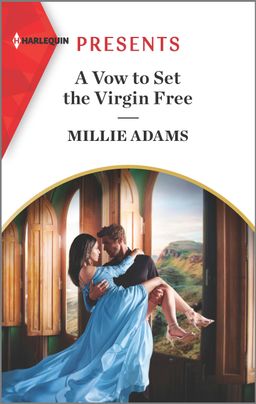 name when I found her escaping from a moving car in the first chapter. Running for her life Athena literally jumps from one fire into another when she's rescued by a hooded recluse in the highlands of Scotland. Cameron McKenzie hasn't been in the public eye for a decade. He hasn't been sitting idle tho; he's been designing a futuristic home automation system which now needs to be publicly launched. Offering Athena the protection of marriage along with access to his billions, Cameron marries Athena and steps out into the world once again.
Cameron's scars do not scare Athena. She knows she's swapped one cage for another but she's quite confident this cage is better than the last one. Cameron and Athena become closer and their attraction for each other is captured in a desirable slow burn. So many facets complicate their worlds but Athena is confident with Cameron by her side she can meet her long lost family as well as make a life for herself. Unfortunately Cameron only feels peace in his reclusive castle and returns home alone.
How delighted was I to quickly discover Athena was the daughter connected to the family Rose from "The Maid the Greek Married" was a maid for! Highly recommended to anyone who loves a fairy tale reminiscent of Beauty and the Beast. It's dark like a true fairy tale and the light shines through bit by bit as Cameron lets his walls crumble.
Book Info:

Publication: February 2023 | Harlequin Presents |
Since the car accident that stole his looks and playboy lifestyle, Cameron McKenzie never leaves his Highland home—and he never receives visitors. Yet when a beautiful woman arrives on his doorstep, he sees an opportunity to relaunch himself into society…
Adopted to replace a lost daughter, innocent Athena has escaped years of imprisonment…only to find herself captive in Cameron's billion-dollar castle! His marriage demand is unexpected…but also tempting. Because being bound to this scarred and shielded man could give her more freedom than she believed possible…