Colton 911: In Hot Pursuit by Geri Krotow is the fifth book in the Harlequin series Colton 911: Grand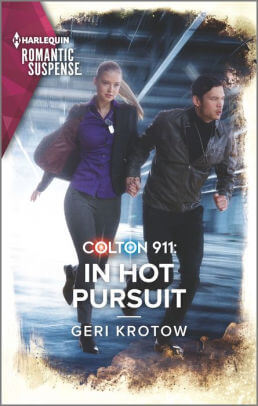 Rapids. There's plenty of action in this story.
Vikki Colton is a paralegal for the Army's Judge Advocate General unit, JAG. The wife of Captain Emerson Joseph, Teri Joseph has died after taking RevitaYou, a supplement advertised as a fountain of youth miracle supplement. Not only has Teri Jospeh died after taking RevitaYou but many others have become ill after taking the supplement. Vikki is assigned to interview Teri's husband and also interview Sergeant Flynn Cruz-Street to see if he knows the whereabouts of his step-brother Landon Street, the scientist who developed the formula for RevitaYou. The authorities are very anxious to apprehend Landon Street so they can get him to tell exactly what all is in RevitaYou. Vikki walked into the barracks to find Captain Joseph shooting at Sgt. Cruz-Street. When Vikki tried to calm down Captain Joseph he ran off. Vikki and Flynn are ordered off the base for their own safety. That's how Vikki met Flynn and started working with him to track down Captain Joseph and Landon. Little did she know at the time that this meeting was just the beginning of danger and electric attraction to Flynn.
Sergeant Flynn Cruz-Street is a MP(Military Police) on the Fort Rapids Army base in Michigan. He is very anxious to find his step-brother, Landon Street so he can talk Landon into turning himself into the authorities. So far he is not having any luck locating him. He is having a hard time, at first, convincing the JAG paralegal the Army sent to interview him that he really doesn't know where Landon is. As Flynn and Vikki get to know each other they manage to trust each other and rely on each other. After Captain Joseph attacked him in his barracks room and confronted Vikki Flynn was assigned to stick with the JAG officer and protect her. They both found it necessary to have each other's back as Captain Joseph, who has become unhinged with grief and anger following his wife's death to RevitaYou, keeps tracking them down shooting and planting bombs to try to get Flynn to tell him where Landon Street is. Flynn doesn't think that it is the mutual danger they are in that has him falling for Vikki Colton. Yet they must both remain professional and keep their cool until Captain Joseph and Landon are found and apprehended.
Vikki and Flynn find themselves attacked several times by the grieving husband of a RevitaYou victim. The suspense throughout the story is palpable. Reading about the strong, emotional reactions Vikki and Flynn have to their danger is very enjoyable. I liked how these two fought their attraction to each other but finally admitted they couldn't win that fight. Meanwhile the overall arc of the mystery of the RevitaYou case is progressing and I look forward to the conclusion of the case in the next book.
Book Info:

Publication: November 1st 2020 | Harlequin Romantic Suspense | Colton 911: Grand Rapids #5
On the run for their lives…and straight toward a killer.
Sergeant Flynn Cruz-Street's estranged half brother is a threat to society. To catch him, Flynn must join forces with JAG paralegal Vikki Colton. Vikki proves to be a brilliant investigator, and what starts as a reluctant partnership soon blossoms into an irresistible attraction. But as they work tirelessly to track down the dangerous criminal, Flynn and Vikki must resist the sparks between them…or risk losing their very lives.
From Harlequin Romantic Suspense: Danger. Passion. Drama.
Colton 911: Grand Rapids
Book 1: Colton 911: Family Defender by Tara Taylor Quinn
Book 2: Colton 911: Suspect Under Siege by Jane Godman
Book 3: Colton 911: Detective on Call by Regan Black
Book 4: Colton 911: Agent By Her Side by Deborah Fletcher Mello
Book 5: Colton 911: In Hot Pursuit by Geri Krotow
Book 6: Colton 911: Ultimate Showdown by Addison Fox