Dare Me by Samantha Chase: When Arianna Donovan met Will Jameson, they spent a whirlwind 24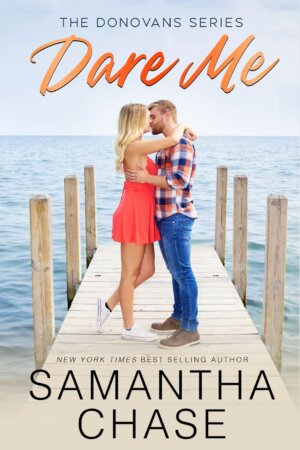 hours together. When they end up on the same flight together, she thinks they are meant to be… until he ghosts her after the flight. In their 24-hour time, she fell hard for him and her friends and family were left trying to console the baby of the family. She's even more shocked when he walks into her family's bar with her brother one year later.
Will Jameson realized on the plane with her that the beautiful woman he met was his best friend's sister. He had no idea since they have been in the service together, so he never actually met her. When he is given the opportunity to go into business with the same brother, Will jumps at the chance to possibly see her again. He can only hope that she's found happiness, but she obviously hasn't forgotten him based on her reaction.
When they both realize that there are still lingering emotions there, they want to be together, but they know that her family would not approve due to their age gap. When Arianna's mom tries to set her sister up with Will, they all come up with a gameplan. Will and Arianna will be able to go out together, and it gets Arianna's mom off her back for a little bit. As Will and Arianna spend time together, they find that they have already fallen but have to find a way to come clean about the entire situation.
Arianna has always been the baby and treated as such. Will is the first person to treat her like the adult she is which is a big part of why she has such comfort with him. She balks at her family though, so she has to learn how to stand up to them about what she wants. When we meet her, she is willing to push a little but also doesn't want to push too much. She has to learn how to get over that hurdle in order to keep her love.
Honestly, this book has everything: forbidden love, sneaking around, secret moments, meddling family, and it all wraps it up in a nice bow at the end. Normally I would be annoyed by an enormous cast of characters, but I think the character management in this one was done so well. I honestly can't wait to read the rest of the stories, because if this was how the family started to experience love, I know that the rest of the adventures will be just as memorable.
Book Info:

Publication: October 4, 2022 | Samantha Chase | The Donovans #1
One year ago, Arianna Donovan and Will Jameson met on a dare and spent a perfect 24 together before going their separate ways. She thought they would stay in touch, but he disappeared without a word.
Arianna thought she'd moved on. But when Will shows up at a family dinner with her older—and very protective—brother, she's angry and confused. How could he possibly forget to mention that he was friends with her brother? No one knows about their past and Arianna wants to keep things that way. No matter how tempting Will is.
When he walked away a year ago, Will thought it was for the best. Staying away from Arianna was the smart thing to do, especially with how protective her older brother—his friend and fellow soldier—can be. Time and distance will work wonders when you're trying to stay away from someone. Now that he's seen her again, he forgets all about doing the smart thing. He'll just have to first convince her to let go of her anger and give him another chance.
Will isn't above playing the nostalgia card, and when he challenges Arianna to a sexy game of truth or dare, she can't resist. Neither one is ready to tell the world what they're doing, but how long can they possibly keep things a secret when there are Donovans ready to meddle around every corner?