Heartbreaker by B.J. Daniels  is the second book in her Montana Justice series. I think the back story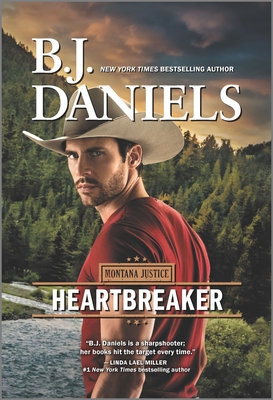 to this series is quite interesting.
During his years on the bench Judge JT Landusky ran a program to help troubled teens straighten out and avoid jail. This included a camp to learn discipline and respect. Thorn Grayson is a graduate of the judge's program so when the judge calls asking him to search for a downed plane in the local mountains and try to rescue kidnapped heiress Geneva Davenport he never even considers refusing to help. The kidnapped woman did indeed survive the small plane crash. When Thorn finds her she is not at all what he expected to find in a spoiled heiress. She's tough and feisty and, oh yeah, beautiful. Instead of being grateful to him for rescuing her she tries to run away. There's something wrong with this picture.
JJ asked the handsome stranger not to call her Geneva but to call her JJ. There's a good reason for this but the supposed "good guy" who claims he is there to rescue her and take her to her grandfather doesn't need to know why she insists he call her JJ. She isn't even sure Thorn really is one of the good guys. He might be part of the kidnapping group and will take her to the person who orchestrated her kidnapping in the first place. Since Thorn has her trussed up and on the back of a horse on the way to his cabin she has time to figure out if he truly is one of the good guys.
The idea that a judge cares enough about a bunch of reckless, troubled teens to try to redirect them to be lawful, productive citizens is one I admire. Thorn Grayson is thankful for the judge's intervention so is more than willing to respond to his call for assistance. Looks like the judge's program was very successful in Thorn's case. His character and JJ's character really mesh. They are both somewhat lost souls but find peace and love with each other. I really like how Ms. Daniels devloped these characters. As usual in a B.J. Daniels romantic suspense story there is plenty of suspense, action and twists and turns. Lots of surprises too! Romantic suspense fans will love this story.
Book Info:

Publication: March 24th 2020 | HQN | Montana Justice #2
He'll risk everything to rescue her…
Ex-military man Thom Grayson has debts to pay. So when a plane crashes in the mountains near his cabin, he's hired to find the wreckage—and the kidnapped woman believed to be the sole survivor. But when he locates Geneva, or "JJ" as she insists on being called, she's not at all what he expected.
JJ isn't sure she can trust the mysterious man who's come to her rescue. But she has secrets of her own—secrets she'll do anything to keep. So she'll follow his instructions and keep her distance to get off this mountain alive without blowing her cover. As dangerous conditions force them together—and the undeniable chemistry between them ignites—he'll protect her at any cost. But when the morning light comes, will the truth tear them apart?