Hidden Ambition by Jules Bennett is a sexy revenge themed romance and book four of the multi-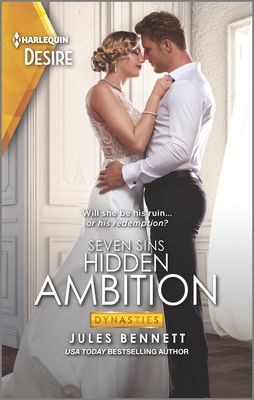 authored Dynasties: Seven Sins series.
Chase Hargrove has never forgiven the Black Crescent investment firm and its founder, Vernon Lowell for what happened to his family when Vernon defrauded his investors and left town; his father went to jail as part of the police investigation and his mother suffered a nervous breakdown. So when current CEO Joshua Lowell is looking for a replacement, Chase applies for the job, with the intention of destroying the company from within as revenge. But his plans get hung up on one obstacle – executive assistant Haley Shaw.
Haley is determined to find a good replacement for Joshua, someone she'll be able to work with day by day and who will be the best fit for the company overall. On paper, Chase seems like the perfect candidate, and his charming, flirtatious attitude is no hardship. When he asks her out on a date she knows she should say no – but her libido is a firm yes. Getting involved with one of the candidates for the CEO position is a risky proposition, not least because she'd end up with him as her boss if he gets the job. But she suspects there is something else behind his interest in her and when she uncovers secrets about his past, will their new and exciting forbidden relationship end up costing her everything?
Revenge themed romances always have a few questions to confront from the start – for how long will the desire for perceived justice last into the story and what will happen when the characters either fall in love with each other, or find out the truth (or both)? In this story, the author does a good balancing act of showing the development of Haley and Chase's feelings for each other and the resulting guilt (on both their parts) over what they plan to do about what they know. The reader knows from the start that Chase's plan is to get the job and destroy the company, but once he meets Haley, he quickly acknowledges to himself that he doesn't want her to get hurt because of his plans. He might have wanted to start a relationship with her to get an inside track on the company, but he discovers a bright, smart, engaging woman who makes him take a long hard look at what he really wants and thinks will happen if he gets the job.
Haley is too smart to be fooled by Chase's attention to her – after all, her desk at work is literally covered with gifts from the candidates for the job, trying to bribe her good word to Joshua for the position. In that respect Chase is no different. But she finds her attraction to him quite real, and is able to justify a secret affair with him to herself such that they share some steamy times together. When she looks into Chase's past she finds out his secrets and understands what they mean. But while she is trying to guard her heart, Chase is losing his and realizing that he's going to have to make some tough choices. The path to their happy ending takes some twists and turns but gives a satisfying conclusion to their romance.
I've been enjoying this multi-authored series that centers on the Black Crescent investment firm and the fallout out of Vernon Lowell's choices to his family and the general community. All of them have been worth reading and can be read as standalone romances and have complete couple stories with a loose overall continuing story arc. I'm looking forward to reading more of the series!

Book Info:

Publication: Aug 01, 2020 | Harlequin Desire | Dynasties: Seven Sins #4
Will she be his ruin… or his redemption?
Revenge has never been hotter—until desire burns away their deceptions…
Chase Hargrove is on a mission to take down the company that destroyed his family…by becoming its CEO. Loyal Black Crescent employee Haley Shaw is his unwitting secret weapon. But when Chase is blindsided by passion for her, he gets careless. With his hidden motives exposed, will he lose everything—even Haley? Or will the tables turn when he learns she has hidden motives of her own…?