Intended for Bristol by L.P. Dover: After a fair few public indiscretions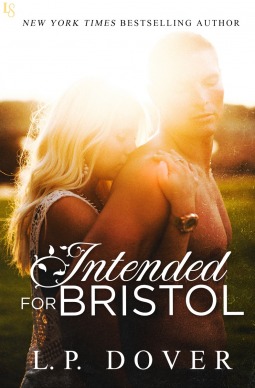 and not so good behavior with his teammates, Jaxon is the most hated member of his team, and perhaps the whole NFL, but he won't let that get him down, not when he's the best kicker around. And when his team gets a new quarterback, one whom Jaxon can't stand and almost immediately starts feuding with, Jaxon finds himself going after the quarterback's sexy and confident sister, Bristol.
Bristol isn't looking for love, let alone from a football player. Instead she wants to focus on building her career as an interior designer. But when Jaxon hires her to decorate his house, she finds herself unable to resist falling for the sexy kicker. But Jaxon's past comes back to haunt them in the form of an obsessed fan and past fling of Jaxon's.
I hate DNF-ing a story, but when I find myself wholly unable to like the hero, and even the heroine to a certain extent, I just have to put it down. Personally, I find Jaxon's far too unlikeable. For me, he came across less as bad boy and more just plain rude, mean, and pathetic. For one, I just find it extremely difficult to root for a hero chasing the heroine with lies and truly awful ulterior motives, no matter how much he may actually be attracted to her. And his unapologetic behavior isn't cool or interesting, especially considering he has no real reason to be a jerk. He just is. Even the one aspect where I'm supposed to see his depth, his love and care towards his mother with cancer, feels more like a ploy for my sympathy rather than actual character depth.
Bristol wasn't bad, but I can't say I was particularly interested in her. I'll admit I may not have read enough to have appreciated her, but even so, she just paled in comparison towards Jaxon and my feelings of him. She felt young, eager, and sweet, definitely not someone I would want with Jaxon – although I wouldn't exactly root for him in any relationship.
Overall, this story just feels far too negative. The entire team seems to hate one another. There's an obsessive stalker which always comes across to me as cliché. And I just can't root for this couple. They felt very one-dimensional, and much of the writing was telling me all this info without creating a story. For fans of L.P. Dover or those who love the bad boy athlete who needs a whole lot of redemption, give Intended for Bristol a try. What might hit wrong for one reader, many others love.
Book Info:
Publication: December 6, 2016 | Loveswept | Second Chances #9
Trying to live down his very public indiscretions, Carolina Cougars kicker Jaxon Reed feels like the most hated man in the NFL. Fans and teammates alike treat him with the disrespect he figures he deserves. Unfortunately for them, Jaxon's no easy target. As payback, he sets his sights on the quarterback's sister: a sultry brunette who's curvy, confident, and sexy as hell. But what begins as a revenge fling turns into so much more—a lesson in humanity, and in love.
Bristol Thomas doesn't have time for games, especially those played by her brother's Neanderthal teammates. A talented interior designer with lofty goals, she doesn't know the first thing about football, or Jaxon—except that he's exactly the type of man she usually avoids. But when his deep laugh and deeper kisses break through her walls, she becomes the target of a fan who's obsessed with Jaxon. Now she needs to know that Jaxon has her back . . . because he already has her heart.